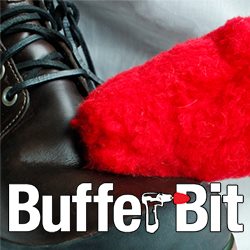 Inventor and entrepreneur Michal Quinn hopes his pitch shines in episode 521 when he introduces his drill powered shoe buffer called The Buffer Bit. If you've ever seen a mechanical shoe buffer, you'll get a good idea of what Buffer Bit is all about. Quinn took the shoe buffer pad off the old style shoe shine machine and attached it to a standard drill bit. Now you just power up your drill and shine your shoes!
The Buffer Bit looks like it's aimed at the male market, but women can use it too. This shoe buffer goes where no buffer has gone before: also polishes leather jackets and furniture. There's even an automotive Buffer Bit that polishes tires, applies wax, and shines up your car's interior.
Quinn's Buffer Bit is patented and it sells on Amazon in both the USA and the UK. Both the shoe and auto buffers sell for just $19.99. The pads are interchangeable and machine washable, too. Quinn is getting a lot of buzz for his product since its launch in November 2012 on DIY Network's I Want That show; will that translate into an investment?
My Take on the Drill Bit Shoe Buffer
I only have one pair of dress shoes. I chucked the suit-wearing, fancy shoes corporate lifestyle more than ten years ago, so the only time I dress up is weddings and funerals. Back in the day, I had a half a dozen pair of dress shoes that needed constant shining. I had one of those mechanical shoe buffer thingies and I used it constantly.
Whenever I get dressed up, I need to shine my shoes because they've usually been collecting dust for months. Like most guys, I have a little shoe shine kit, but my shoe buffer went in the trash years ago. The Buffer Bit is something I'd use. It makes a GREAT father's day gift (hint hint).
It's definitely a guy's toy. Sure, women can use it too, but guys will like the whole "I get to use my tools while shining my shoes" thing. The applications for the car are cool too. I've seen drill powered waxers and buffers for cars before, but not one that also had a bit for my shoes. Quinn ought to sell a combo pack for Father's Day (hint hint). Just like the DIY Network, I want one!
Do Sharks take a shine to Buffer Bit?
The Sharks will like this product. All the men will immediately identify with the mechanical buffer, but they all probably have one of the old kind. Lori might not identify with it personally, but how she reacts to it as a product is key to Quinn's success.
Since the product already has international sales, Quinn better be spot on with his valuation and numbers. The guys might bite if the numbers are OK, but the big objection will be "it's a good product, it's just not a business." If Lori thinks it's a "hero," it could create a mini feeding frenzy.
I have to believe Lori would want this on TV. It has the criteria for a good QVC product: good price, useful, wide appeal, and demonstrable. I think Quinn will field a couple of offers if he is on the ball with his pitch.