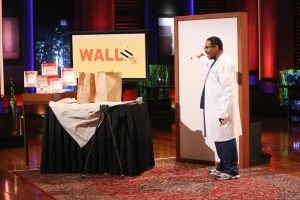 Shark Tank is full of business and finance lessons. Do you study the show in preparation for your chance in front of the Sharks, knowing any day now you'll get the call back from producers? While it's always important to dream, stay focused on the practical lessons learned so you can move your business to the next level and not waste time waiting for a call that may never come. You may learn from important finance lessons to grow your business without sacrificing the equity and control that comes with a Shark deal.
Jim Lewis of Wall Rx is a great business to study. He had a patented product with proven demand, but he didn't have the capital to fulfill a large order. Look at your business and decide if you have any of the following traits.
Finance Lessons: Questions to Answer
Does your product have a healthy profit margin? It costs Wall Rx $2.50 or less to produce a product that sells for $6.99 to $9.99. This healthy profit margin opens up financing options normally not feasible for a lower margin product.
Does your product appeal to the masses? Big box stores will want to know there's a market for your product. Wall Rx has proven customer demand with 80,000 units sold.
Can you increase or decrease production to meet demand? Using a contract manufacturer provides flexibility if you need to ramp up production to fulfill a big order.  Jim's goal was to buy machinery and automate the process, but did you notice what the Sharks kept discussing? Outsourcing the manufacturing process to insulate the business from idle staff/machinery if there's a lull in orders.
Can your product line support a price increase? Price elasticity of demand measures if customers will still purchase your product if you increase the price. Some factors in determining price elasticity include availability of substitute products, percentage of income and necessity.  Wall Rx offers a completely unique product at a low-cost, so consumer demand would remain stable even if the price increased.
Do you have a purchase order from a credible buyer? To qualify for alternative financing, your confirmed purchase order must be from a credit worthy buyer.
If you were able to answer YES to the above questions, you've learned valuable finance lessons and you should research alternative financing options for your company. Wall Rx is a prime candidate for purchase order financing, a short-term investment tool used to support large transaction growth. If growth continues, you will only need it for the short-term before you can transfer to a lower interest financing option.  If that's not the right financial tool for your growth, there are plenty of other options including asset based lending, inventory financing, invoice factoring and more. Be sure to connect with an alternative lender that is creative and doesn't just ask you to fill out a standard form.
Dan Casey, founder and CEO of accountsreceivablefinancing.com, believes every business has a story to tell. He's been listening and helping small businesses grow exponentially since 2002 using a creative combination of finance tools. He's been featured in publications including Entrepreneur Magazine, Entrepreneur Online, Small Business Trends Online, The Washington Post, Crain's Chicago Business & American Express Open Forum. 

Visit www.accountsreceivablefinancing.com and be sure to mention Shark Tank Blog to get a free subscription to Fast Company or Entrepreneur magazine.*

 

*Must qualify for financing to receive special offer exclusively for SharkTankBlog.com readers.