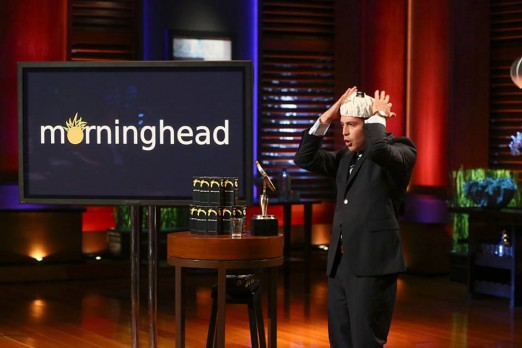 When I first heard the name of this business, Morning Head, I was intrigued. Entrepreneur Max Valverde claims to have the cure for "morning head" in Shark Tank episode 523 on March 21. CURE? I didn't know one was needed!
All double entendre aside, MorningHead is a shower cap-like headpiece with super absorbent material inside. Wet the inside, put the cap on your head, and rub. It moistens your hair for easy grooming without a mess and cures morning head (sometimes called bed head or hat head).
He started the company two years ago with $6,300 from a Kickstarter campaign. Max is a sales engineer by profession; he graduated in 2006 from Brown University in Providence, R.I. H created Morninghead because he showers at night and got sick of dunking his head under the faucet every morning.
Max plays up the double entendre angle with his tongue (thankfully) firmly in his cheek, but he's selling his product on Amazon and he appears to be putting orders out like crazy. It's a fun concept and an even more fun name. As Max likes to say, "get morning head and make your mornings suck less!"
My Take on Morning Head
My first inclination is to say "I LOVE morning head," but when I take a closer look at what Max is talking about, I guess I don't. Everyone has had a moment when their hair just isn't behaving due to a nap, a good night's sleep, or "too much hat." I've splashed water on my hair plenty of times to straighten it out, but never with a Morninghead cap!
At $8 apiece, it's a low enough priced item to try for the novelty of it. If it works, great – it will be one more bathroom item, kind of like another facecloth. Whether the masses like it or not remains to be seen. It does work, so people who need to groom quickly will probably give it a try. I'm sure Max sells plenty of product as a gag gift just because of the name.
Do the Sharks Give Morning Head…..a chance?
Max's presentation will surely elicit a few chuckles from the Sharks. Someone might have to explain the joke to Barbara though. Once she figures it out, she'll go out. Max plays up the name and the reaction it provokes on his website, I'm sure some of the antics will air. Since starting the company, Max sold more than 8,000 caps throughout the U.S. and in 45 countries, but will that be enough sales for the Sharks?
This seems like a product that is well suited for an "As Seen on TV" sales approach; I bet Max wishes Lori was on the panel! I'm not sure any of the other Sharks will bid on this, save for a Mr. Wonderful royalty deal. Max is going to get the "it's not a company, it's a product," excuse from the Sharks. Whatever happens, people will be inquiring about morning head more than usual when this episode airs!