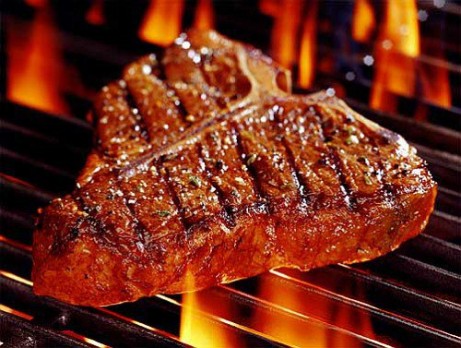 Gourmet meat gets tossed into the Shark Tank as entrepreneur and third generation meat man Dave Alwan pitches Echo Valley Meats to the Sharks in Episode 426. Dave has an old school, gourmet butcher shop in Bartonville, IL where he processes, packs, and ships delicious gourmet meat  all over the country.
I normally don't get to try products before they appear on Shark Tank, but Dave is a fan of The STB and he sent me two boxes of gourmet meat to try! They arrived the day before Easter and what a treat it was.
Gourmet Meat in the Mail
Echo Valley sells premium pork and beef products in their retail stores and for packing and shipping anywhere in the USA.  Their Hams have no water added and are smoked in Echo Valley's own meat processing facility. Steaks and roasts are all USDA Prime beef. This isn't your average, supermarket fare; this is 100% top shelf, gourmet meat
Dave packed up a spiral ham, a prime rib roast, filet Mignon steaks, garlic cheese spread, candied almonds, summer sausages, Vidalia onion steak sauce, and several fistfuls of his beef jerky and spiced beef sticks.  Everyone loved the beef jerky, in fact, by the end of the day, half of it was gone! We put the cheese spread and a summer sausage out for snacks on Easter Sunday and both were exceptional. The steaks, ham, and prime rib got tucked in the freezer for when my in-laws visit in a few weeks – I'll let you know how they were.
Dave isn't exactly saying what he wants a Shark investment for, but he did say "a couple of the sharks have been ordering since Thanksgiving already. One sent me a personal note a few weeks ago and said: 'Dave, be ready to sell LOTS when your segment airs!' I took that as a very positive note since it was their 3rd order already."
Will Sharks dine on Gourmet Meat?
This pitch is going to come down to whether or not Echo Valley Meats and the Sharks can provide reciprocal value. The meat is good, there's no doubt about that. There is a decent market for online gourmet meat sales and a Shark Tank appearance will undoubtedly boost interest in Echo Valley. If Dave has something else, like expanding his retail butcher shop "empire," it could be a different story.
Whether a Shark invests or not remains to be seen, but from what I can tell, Echo Valley Meats has top-notch gourmet meat. I am definitely "IN!"
Check out the video: