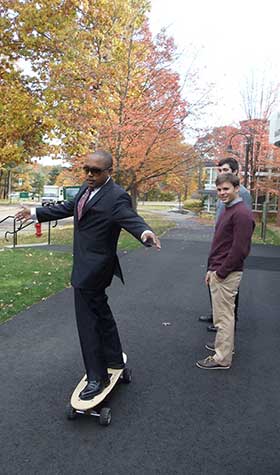 Shark Branding is one of Daymond John's enterprises and one of his people put together a Daymond John video of his funnier moments. Daymond is known for funny one liners on Shark Tank and you could probably fill a half an hour with some of the funny stuff he says.
For Daymond John, video is a big vehicle to expand his brand and message. Barely a day goes by without Daymond making an appearance somewhere. Whether it's a school or University,  a business presentation, or just talking about condiments, you can be sure someone videos just about everything Daymond does!
Daymond seems to enjoy being a Shark; you can tell he's having fun (most of the time) on the set, and it shows in his attitude with the entrepreneurs and his fellow Sharks. There's no denying Daymond is a Shark: he's as tough a negotiator on the panel as anyone, but he also shows a lot of heart. I got an opportunity to meet Daymond in October, 2012 at Babson College in Wellesley, MA. He was pretty down to earth for a guy with that much "juice."
Daymond John Video
The video Daymond's Shark Branding people sent me is part music video, part greatest hits reel. The background song will stick in your brain for hours (be warned) and some of Daymond's comments will make you laugh out loud. They left out my favorite though. The episode when Daymond describes "bingo wings" cracked me up, but didn't make the cut.
I don't know who else got this video, but I downloaded it from my Dropbox this morning and wanted to put it up immediately! I have tried to put together video clips of funny moments before, but downloading every episode for editing got too cumbersome for my computer and the process of editing takes up too much of my time, so I'll leave that part of it to Daymond's people and just do my thing.
Enjoy the video!