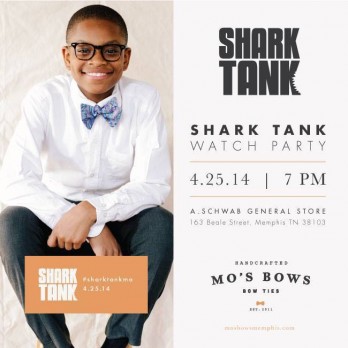 12-year-old Moziah Bridges created his business when he was just nine years old when he started making bow ties from scraps of his grandmother's sewing fabric. For a kid, Mo is a snappy dresser and he likes the look of bow ties in his personal fashion repertoire. When he realized other folks might like his designs, he started selling them on Etsy and his business, Mo's Bows, was born. He hopes the Sharks like bow ties, because he'll pitch Mo's Bows in the Shark Tank this Friday, hoping to tie up an investment to help his business grow.
Mo says he wants to be a famous fashion designer someday. At the tender age of 12, he's well on his way. He's been featured on the Today Show, MSNBC, Fox Business News, The Steve Harvey Show, Forbes, Oprah Magazine and more; now he's going on Shark Tank. The kid certainly has a good head start, at least from the business and PR side of the game. Besides selling on Etsy, Mo does Trunk Shows in and around Memphis, where he lives with his family. He's a budding philanthropist, too: he has a line of "summer camp" bow ties he donates 100% of the proceeds from to scholarships for kids to attend Glenview Community Summer Camp.
My Take on Bow Ties
I NEVER wear a tie anymore, whether they're standard ties or bow ties. My suits, dress shirts and tuxedo all gather dust in my closet. The only time I wear a suit and tie is at weddings and funerals. I haven't worn my tux in over ten years. Even when I did don the business suit on a daily basis, I never wore bow ties. It's not that I don't like them, I just couldn't figure out how to tie the darn things! I wouldn't be a Mo's Bow's customer, but I'll bet he can help with the resurgence of bow ties in men's apparel.
Mo is the latest young entrepreneur to jump in the Tank. With all the kids swimming in the Tank this season, the producers could have done two or three young entrepreneurs specials! Whether Mo gets a deal or not, he, along with the other young people on the show this season, is a great example for America's young people. It's refreshing to see these kids getting out there and making it happen. It gives me hope for this country!
Do Sharks Tie up Capital for Mo's Bows?
Bow ties could catch on. They look sharp and they express a certain individuality in a way regular ties just can't. Mo's Bows aren't cheap, they're quality ties and the price ($40-50) reflects that, but men who like the designs (and the women that love them) would buy them. The natural "target Shark" would be Daymond; he's the fashion guy. I'm not sure if other Sharks would go for them. Lori might if she feels she could sell them on QVC and through her other channels. I don't see Mark bidding – he doesn't wear ties either. Robert won't bid, but Mr. Wonderful will offer his standard royalty arrangement if he offers.
Mo needs help with his internet presence. He has a Blogger blog as his main webpage and his "store" is an Etsy store. He needs a serious professional, e-commerce presence to go big. Any Shark could help him with that, but the added fashion expertise of Daymond could catapult Mo's Bows to the big time quickly.