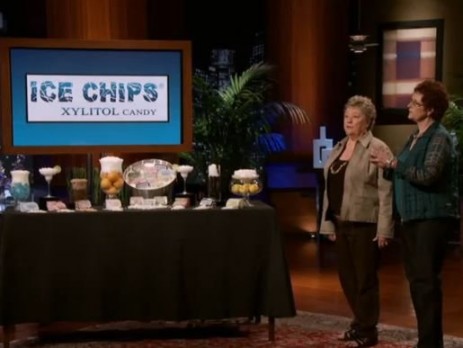 Episode 424, the Shark Tank season 4 finale, was supposed to feature an Ice Chips update segment, but the producers opted for a montage update instead. The Ice Chips update will likely air in the season 5 premier. Ice Chips entrepreneurs Beverly Vines-Haines and Charlotte Clary got a deal on the air in episode 408 with Mark Cuban and Barbara Corcoran at $125k for 33%. I caught up with Charlotte recently to get her perspective on the Ice Chips update segment.
Beverly was unavailable; she's busy writing one of two books about the "grannies in a garage."  The first one, called Two Grannies in a Garage: How Hard-headed Perseverance Trumped Scrap Booking, should be done this summer. It deals with Bev and Charlotte's twenty year business journey up to the point they got on the plane to be on Shark Tank. The second, as yet untitled, book will take up the story from that point on.
Charlotte gave me the skinny on Ice Chips sales, some background information, the company moving forward, and, of course, the Shark Tank experience.
Ice Chips Update Features BIG Sales!
Charlotte was very pleased with the results from Shark Tank. "OMIGOSH," she exclaims, "on November 9, when we originally aired, we had over 8600 people on our website simultaneously for about 20 minutes! There were over 1500 orders; we got half of them shipped out Saturday and we haven't been more than 24 hours with order fulfillment since. Orders stayed strong and we had a lot of re-orders going into Christmas. People tried Ice Chips and wanted them for stocking stuffers and gifts. Our wholesale customer orders more than doubled from 800 to 1800. All told, we can attribute about $300K in orders directly to our Shark Tank appearance."
Those kind of numbers make the show producers stand up and take notice, hence the update in the season finale! Charlotte and Bev were popular with viewers, too. Two women with 37 grandchildren between them with a compelling business story makes for good TV, but Bev and Charlotte didn't apply to be on Shark Tank.
"My daughter in law sent in the application," Charlotte explains, "and she didn't tell us about it for a couple of months. We thought it was sweet, but we were tickled pink when they called us back a month later. Bev and I were in a meeting and I took the call, which I almost never do when we're in a meeting. I listened to the woman and mouthed 'Shark Tank' to Bev. I told her we'd call her back and we ended up talking for 45 minutes. She thought we were interesting and she sent us a packet and asked us to send in a video. Luckily, we have a videographer who works for us, so he set us up."
Ice Chips Update After Shark Tank
Charlotte is curious to see what they include in the update segment. "One thing I got for myself after the show was a big, red leather, power chair – just like the Sharks have. They shot me in it and I hope it makes the final cut!"
The update will most likely focus on the grannies' success, but they did it without Mark and Barbara. "The deal did not go through in due diligence, but it was an amicable negotiation. Even without partnering with Mark and Barbara, Shark Tank is the gift that keeps on giving. There's no such thing as bad press, but we got an eight minute 'thumbs up' from Shark Tank. We obviously got good exposure, we had a good edit, and the Sharks like us and the product. It was a win/win/win."
The grannies needed the money to fund automation. They run two companies: Ice Chips and Healing Leaf, LLC which sells specialty skin care products. "We split the companies before we went on Shark Tank so we wouldn't muddy the waters. Healing Leaf is a one car garage business, Ice Chips was a two car garage business – and growing. We got a new facility and a new date coding machine for packaging, which will allow us to go after bigger orders."
"The candy isn't in any big retailers now, but we're looking at some. We need automated production to fulfill large orders. We literally make the chips by hand now, so we're designing a machine we can feed sheets of candy into and have them chopped into chips – it's almost like a wood chipper. The prototype was ready in April and it's being made now. We hope to have it up and running by the end of the summer."
"Some of our employees are nervous about the automation, but the new equipment will create more jobs, not replace jobs. The new machine will squeeze 30 labor hours into an hour and a half. This allows us to fill large orders and will create more work. We both get a kick out of providing jobs."
Motivation
Both Bev and Charlotte are delighted with their expanding sales and Shark Tank success, but it wasn't an overnight thing. Bev's been writing romance novels for years and Charlotte was a stay at home mom. 20 years ago, they realized they were married to aging construction workers and wanted to do their part to help support their respective large families. They tried many other ventures over the years, but, as Charlotte explains, "Ice Chips really saved the day. Bev's husband is our shop foreman and my husband is the office manager. Bev's glad to have income so she can focus on her writing. Even though we haven't had much rest since November, we're happy doing what we're doing."
The ladies are taking a little breather before their update segment airs. They took a trip to Las Vegas last week and lived it up in style at the Bellagio. They'll need the rest, it sounds like Ice Chips is going places, especially once they have increased production capacity. "We have another product in the works we'll be unveiling later this year, too."
Charlotte's Parting Thoughts
When I asked Charlotte if she had any words of wisdom or inspiration for other entrepreneurs, I wanted to know what inspired her. "I get asked that question in one form or another all the time. What's most important to me is leaving a legacy for my family. Not just the business either. I want my kids and grandkids to see what you can accomplish when you don't give up."
I had one other question for Charlotte, which she answered on The Hot Dog Truck.