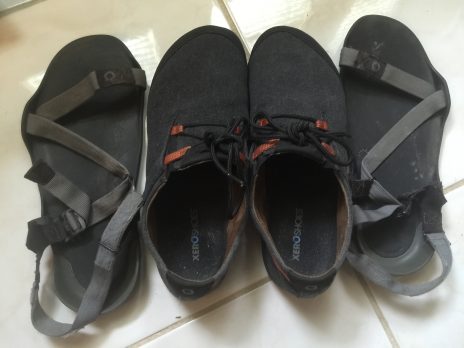 The picture above is of my Amuri Z-Trek Sandals and my BRAND NEW Ipari Hana Shoes – both from XeroShoes. XeroShoes jumped in the Tank in season four (the company was called Invisible Shoes then) and left without a deal, but they've been cranking out innovative new footwear since.
As I said back in season four, I like these shoes. I am a barefoot type of guy and I wear my Amuri Z-Treks constantly They're great for the beach, fishing, and just about anywhere else I go. I even wear them to church (Jesus wore similar sandals after all). The only time I get pushback from my wife about wearing them is when we go out to eat. She doesn't think sandals belong in a "nice" restaurant. So, when we dine out, I put on some loafers; after all: "happy wife, happy life."
The Ipari Hana officially launches on October 18. They are giving some away, too. You can find the contest info HERE.
What is the Ipari Hana?
Apparently, Steven Sashen, owner of XeroShoes, heard a lot of comments like my wife's. Most of the comments were from people who love their XeroShoes (like me), but wanted to wear them at the office or some other place where sandals aren't apropos. To accommodate these requests, Steven created the Ipari Hana.
It's a XeroShoes sole with a suede upper. It even has laces, so it looks like a real shoe! The single biggest benefit, for me, about XeroShoes is it's the closet thing to going bare foot without being bare foot. That's why their motto is "feel the world." With the Ipari Hana, I get that bare foot feel while getting the look of a simple, casual leather shoe.
I wore my pair for a few weeks whenever we went out. I love the feel and the look. Many people want XeroShoes for active footwear. Sashen created them so he could run in races bare foot. He's an avid proponent of the bare foot running craze and calls himself "the world's fastest Jew over the age of 50." Speed is not my forte, but I like the comfort. Apari Hana is a winner and a most welcome addition to my minimalist shoe collection!
Ipari Hana Video
Whenever I get a Shark Tank product to review, I create a short, poorly produced video. Take a look at the Ipari Hana in action.