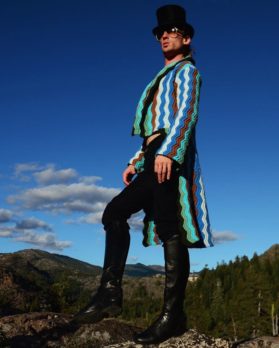 Schuyler Ellers, aka Lord Von Schmitt, learned to knit and crochet while working as an English teacher in Spain. Little did he know it would become his life's work. Now, the quirky entrepreneur makes his living selling what he describes as "Recycled Upcycled Sustainable Cosmic Space Crochet for Radical Badass Mother Effers." In short, he makes wild crochet clothing: shorts, pants, jackets and more.
Most of his creations look like something out of an acid trip. Wild colors, bold designs and freaky patterns are standard fare in this crochet clothing line. The funny thing is, he doesn't knit every single item. Instead, he scrounges around yard sales and thrift shops looking for old afghans to re-purpose into his wild designs.
Afghans have been made for about as long as people learned to knit. They make colorful and functional blankets or bed covers and they keep those who like to knit busy as little bees. Ellers is a creative guy with a fun attitude and he's hoping a Shark will help him grow his business in episode 1123.
My Take on Von Schmitt's Crochet Clothing
Both my nana (when she was alive) and my mother in law are prolific afghan knitters. Once, when my mother in law stayed with us for a few months while my father in law was moving abroad for work, I watched her knit a lush, white afghan on a daily basis. Each night before bed, she's put her knitting down until the afghan completely covered her body. We still have that afghan as a throw on our leather couch.
My nana knitted literally hundreds of afghans in her lifetime. Every year, someone in our household would get a new one. Once, she custom made one for me before I went off to college. It was purple, yellow, bright green and white. Von Schmitt would've like that one! We still have some of my nana's afghans stored in our home and my mother in law's creations are on the aforementioned couch, our guest room bed and our daughter's bed.
I'm not crazy about wearing wool, especially in Florida, but I think the tailcoats are awesome. I'd LOVE a red, white and blue one for the Fourth of July! The stuff is pricey (a tailcoat is $2500), but each piece is unique and if you fall in love with the styles, the money won't matter.
Will Sharks Knit a Deal?
I think this will be a funny and entertaining pitch that will go nowhere. This is not really an invest-able business as it's too custom. That said, the segment looks like it will be good for a few laughs and it should give Lord Von Schmitt some good publicity.
He sells his crochet clothing from an Etsy shop and on Amazon. If he had gotten a deal, he'd be off Etsy and into his own eCommerce site.