This post brought to you by ableBanking. All opinions are 100% mine.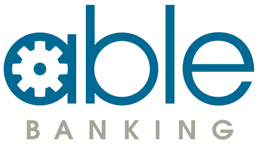 Internet bank ableBanking is the online division of Northeast Bank, a Maine institution since 1872. Banks aren't new, but banking itself is taking on a new way of doing business in the increasingly online economy and ableBanking is leading the charge. Financial transactions are far more accessible online than at any time in history. Gone are the days of waiting in line for a teller to transfer funds from one account to another. With a few clicks of a mouse, most banking tasks can be taken care of in the comfort of your own home.
ableBanking Gives Back
The winner in online banking automation is the customer. Internet "real estate" is far less expensive to maintain than a series of bank branches. This enables banks to pass along higher savings rates to depositors. Less overhead means less expense for the bank; the ableBanking website claims they  give their depositors rates as much as ten times the national average. They won't nickle and dime you with ridiculous fees like many "big banks" charge either, and all deposits are FDIC insured. I know I could use an extra couple hundred bucks a year, I don't care what bank it's in! Think about what you'd do with extra funds that you don't have to do anything special to earn. More money in your pocket is always a winner for bank customers.
Customers aren't the only winners at ableBanking, charities are benefiting as well. The folks at ableBanking believe in the old-fashioned notion of giving back to the community. For each new account you open,  they'll give $25 to the charity of your choice. They keep giving to the charity each year by donating .25% of your average balance to the charity as well. Sounds like ableBanking is a win/win!
For more information on how you can start earning more on your savings deposits, visit the ableBanking website. Like any good internet bank, you can find them on Twitter @ableBanking and on the ableBanking Facebook page.
I've always been a big supporter of my local Boys and Girls Club. I may move a few funds over to ableBanking to give them a little boost during the holiday season. What charity would you let ableBanking give some money to?