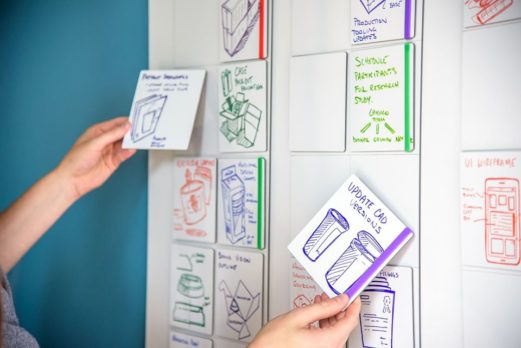 MC Squares founder Anthony Franco knows a lot about business. He's built and sold five companies and won numerous awards for his business acumen. So it's no surprise he finds himself heading his sixth company – a business that helps make collaboration easier. When you've been in the business world as long as Franco, you've probably attended a lot of meetings. MC Squares aims to make that meeting time more productive.
The heart of the product line is whiteboards, but not the kind you may be familiar with. With MCSquares, everyone in a meeting gets a square. This lets them jot down ideas which can get placed on a larger surface for all to see. The squares are magnetic so they stick to any metal surface. Franco believes this kind of open source collaboration makes for a freer expression of ideas and more creativity. Because of his successful background, he has a lot of credibility.
In addition the the single squares, MC Squares makes larger magnetic whiteboards, reusable "sticky notes," dry erase markers and much more. He makes everything in Colorado. Franco also likes trees and the company plants a tree for every product sold. The products are gaining traction in the tech world as collaboration often occurs remotely, so companies need to make the most of face to face meetings.  You can view and buy the entire line of products on Amazon.
My Take on MC Squares
I like the idea of the reusable sticky notes. I could see my family using these around the house as we frequently leave notes using sticky notes. As for the white boarding tools, I probably wouldn't use them in my current position as I work for myself, by myself. I have attended many meetings though and I can see the value.
When I worked in telecommunications many years ago, I often used whiteboards when doing presentations. When others in the room had something to add, they'd come up to the board and write things on it. With something like MCSquares, I think meetings and presentations would go smoother.
Will Sharks Cut a Square Deal?
I'm not really sure how the Sharks will react to the product, but I expect them to react positively to Mr. Franco. This seems to be something Mark might gravitate to, but I'm not getting a clear sense on the other Sharks. This product is sold to businesses and schools primarily, not consumers per se and most Shark Tank products are sold to consumers.
It almost seems like Franco is pitching just the reusable stickies in the Tank. While the other products appear, the focus might be on the one product. That could pose a problem. If he's offering just one piece of the business, I don't think he'll get a deal.