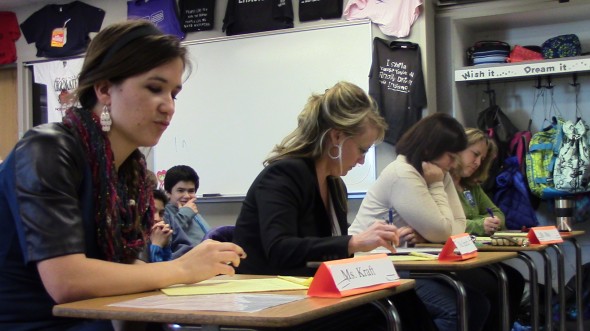 Shark Tank has a big effect on how Americans view small business and there are stories of regional "Shark Tanks," college business pitch contests, and teachers conducting a Shark Tank unit in their classes in the news frequently. There are about 5,000 subscribers to the Shark Tank Blog and recently one of them, Judi Holst, contacted me about a project she did with her 8th grade Language Arts class. Holst is a 22 year veteran of the teaching craft and a BIG fan of Shark Tank. One night, she had an epiphany and decided to create a Shark Tank unit for her classes; she knew what she wanted it to look like, but didn't know how it would turn out.
Judi describes the Shark Tank unit: "The students must be able to critically answer the Shark's questions about their products and 'earn an investment' for their business.  Not only have the students been engaged in this unit, but they have learned real-world skills in many subject areas, along with the Language Arts Standards.  Their creativity and innovation is what made this unit worthwhile."
She decided to ask parents to come into the classroom and be the "Sharks." Since the unit was two weeks long, she wasn't sure if she'd have enough participation. "It made me laugh that some parents went home and signed up for more days;" says Holst, "I even had to add a spot for each day because sometimes I was going to have four or five parents or staff members that wanted to come in for a certain period." Clearly, the Shark Tank unit was a success with the parents, but what about the kids?
Kids' Criteria for their Shark Tank Unit
After a lot of thought, Judi decided on the criteria for the Shark Tank unit. The kids had to invent something that solved a world problem, run a patent check with the US Patent Office, blog about their invention, demonstrate how to build their product, price materials, figure profit margins, decide on an investment amount, and design a logo. A school parent and graphic artist spent two days with the class working on logo designs.
As a final step, students used their persuasive writing skills to draft their proposal to "the Sharks." After that, all they had to do is the live pitch. Some kids made videos to go along with their pitches, but everyone had to "go live" in front of the Shark panelists.
"I had no idea that this would go as well as it did," beams Judi. "The Sharks were FIERCE! Some students made great counter offers, and some asked what the Sharks could bring to their company before they made their decision.  It was truly like watching adults on the show.  The students were so creative in their answers; it was critical thinking at its best."
Students LOVED The Shark Tank
As an English teacher, I know the challenges of engaging kids in a sometimes "dry" subject area. Judi's Shark Tank unit was a home run, the kids loved it!
"It was fun because we had a variety of freedom of subject to choose, and it tested my creative juices," said one student.
"It was fun because you got to be a totally different identity, you were an adult version of yourself," said another.
"I thought this unit was not only extremely fun, it included all kinds of learning, so everyone can learn in their own way. I loved it,"  said a third.
One teacher remarked "I like the authentic real world application to Language Arts."
Clearly, Judi Holst has a winning lesson here. Shark Tank is a rare TV show: it gives lessons with every episode and allows people in the "real world" to interact with and apply those lessons in many different ways. Who knows, maybe one of Judi's students is the next Mark Cuban or Lori Grenier (I hope there isn't a Mr. Wonderful in her class). "I am so appreciative that the Shark Tank show has given my students the motivation to be more creative this year," Holst concludes.
This has to be the best Shark Tank success story of the year!