This post brought to you by ableBanking. All opinions are 100% mine.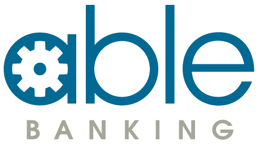 I remember going to our small, local bank every Saturday morning with my little brother when I was a kid. We shared a paper route and we had to "settle up" with the distribution office every Saturday. Our next stop would be the bank where we'd deposit most of our earnings into our savings accounts. There was always cider and doughnuts in the lobby and everyone seemed to know each other; our bank even sponsored my Little League team!
These days, most people get their news online. Now you can do your banking onine too, with ableBanking. They're the online arm of Northeast Bank, a Maine banking institution since 1872. While the charm and small town familiarity of a small, local, brick and mortar bank is nostalgic, very few true "small banks" still exist.
Let's face it, banks just aren't what they used to be. Consolidation, escalating real estate costs, employee costs, and shareholder earnings have eaten away at traditional savings rates for years. What ableBanking is trying to do is use the efficiencies of the internet to bring back a little bit of that old school small bank feel. They won't be handing out cider and doughnuts, but they are offering interest rates on savings accounts up to ten times the national average. Imagine what you could do with ten times the interest you're earning now! Would you get a new car, go out to dinner more often, or just keep compounding interest?
One way ableBanking is bringing the small bank feel to their internet operation is by helping their depositors' communities. They won't be sponsoring any Little League teams, but they will give $25 to your favorite charity when you open a new, online savings account. They'll also kick in .25% of your average daily balance over the course of a year to your charity too.
What ableBanking is trying to do is bring that small town, small bank, community feel to an increasingly complex and impersonal world. Everyone has a favorite charity. Do you think your favorite charity could use some extra money? I know my local Boys and Girls Club would LOVE to have a bunch of depositors designate them to receive the ableBanking "bonuses." They do great work with kids by giving them a positive, safe place to go after school and providing good mentors and role models. Think about how your favorite charity would benefit if you and ten or a hundred friends gave $25 from ableBanking; I'll bet they'd love it too.
With a new year almost upon us, maybe it's time to look at getting a better return on your savings and helping your favorite charity at the same time. Check out the ableBanking website for more information. You can also find them on the ableBanking Facebook page and on Twitter @ableBanking.
Merry Christmas and Happy New Year ableBanking!