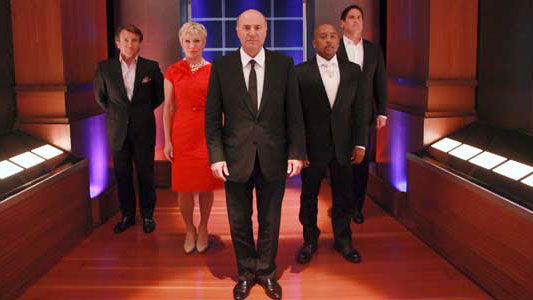 Season 4 Premiere has investors offering entrepreneurs over $10 million dollars during Shark Tank season four.
"Queen of QVC" Lori Greiner joins the panel as a regular Shark this season along with several celebrities also joining entrepreneurs this season, including "Family Guy" creator Seth McFarlane and two-time Super Bowl Champion Brandon Jacobs. "Shark Tank" is back for a fourth season, with the Sharks continuing the search to invest in the best businesses and products that America has to offer. In 2012 "Shark Tank" received an Emmy nomination for Outstanding Reality Program and was nominated for a Critics' Choice Television Award for Best Reality Series. The Season Premiere, "Episode 402," airs FRIDAY, SEPTEMBER 14 (8:00-9:01 p.m., ET) on the ABC Television Network.
In the Season Premiere, "Shark Tank" history is made when all five Sharks join forces to make a deal. Also, a recent college graduate from Indianapolis, IN wants to turn inconvenience into opportunity with his ticketless coat check system; a man from Central City, CO wants the Sharks to invest in his belt buckle idea that doubles as a beverage holder; a licensed massage therapist from Phoenix, AZ takes a stand to reinvigorate the ancient art of body massage; and two women from Freehold, NJ believe they have a solution to the nationwide epidemic of bedbugs. Also, an update on Rick Hopper from Fullerton, CA and his Readerest eyeglass holder, which Lori Greiner invested in during Season 3.
Lori Greiner, a prolific inventor of retail products and often referred to as the "Queen of QVC," returns as a Shark and will appear in many of the 22 episodes. Returning "Sharks" joining Greiner are billionaire Mark Cuban, owner and chairman of AXS TV and outspoken owner of the 2011 NBA championship Dallas Mavericks; real estate mogul Barbara Corcoran; technology innovator Robert Herjavec; fashion and branding expert Daymond John; and venture capitalist Kevin O'Leary.
The entrepreneurs who dare to enter the Tank must try to convince the Sharks to part with their own hard-earned cash and give them the funding they desperately need to turn their dreams into million dollar realities. But the Sharks have a goal too — to get a return on their investment and own a piece of the next big business idea. When the Sharks hear an idea worth sinking their teeth into, they are more than ready to declare war and fight each other for a piece of it.
In upcoming episodes, celebrities will join the entrepreneurs in their pitches. Appearances include "Family Guy" creator Seth McFarlane, two-time Super Bowl champion and San Francisco 49ers running back Brandon Jacobs, entertainment celebrity reporter and writer Robin Leach, eminent Emmy Award-winning comedy writer Bruce Vilanch, and the husband and wife professional dancing team Jonathan Roberts and Anna Trebunskaya ("Dancing with the Stars").
The selection of entrepreneurs this season will range in age from 70-year-old grandmothers to the growing trend of "kidpreneurs" and include everyone in between. There will be pitches from high school and college students, stay-at-home moms, and even multi-million dollar venture capital-backed startups.
The Sharks in "Episode 402" are Barbara Corcoran, Mark Cuban, Robert Herjavec, Daymond John and Kevin O'Leary.
Mark Burnett, Clay Newbill and Phil Gurin are the executive producers of "Shark Tank," which is based on the Japanese "Dragons' Den" format created by Nippon Television Network Corporation. The episode is directed by Ken Fuchs. The series is produced by Sony Pictures Television.
"Shark Tank" is broadcast in 720 Progressive (720P), ABC's selected HDTV format with stereo sound. This program carries a TV-PG parental guideline.