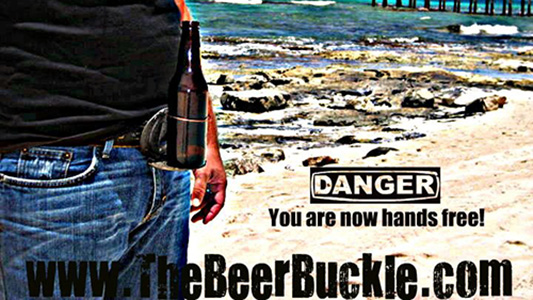 The BevBuckle Beer Belt Buckle Shark Tank debut takes place on the season opener on Friday, September 14. This quirky, fun product allows the wearer to hold a beer (or any other beverage) with their belt buckle!
The Beer Belt Buckle or BevBuckle, is the brainchild of entrepreneur Jay Kriner, a son of a military man. Jay has lived all around the country and has a varied background; he studied medical biology, engineering, art, music and business. This varied background eventually led him to inventing the Beer Buckle.
The Beer Buckle is patented and it has taken the country by storm. There is a Beer Buckle Tour that started in 2010 and  made stops this past summer at beer festivals all over Texas and Colorado, the Sturgis Bike Rally, and the Bonaroo Music Festival. The Beer Buckle gang rides around in a big, blue bus, spreading beer cheer along the way.
The Beer Buckles sell online, through the company's online shopping cart. There are no retail locations evident, at least according to the Beer Buckle website. They do appear to have done some licensing as Twisted Teas is selling a branded BevBuckle on their website.
It always takes me by surprise when a seemingly well-functioning business like the Beer Buckle appears on Shark Tank. On the surface, it would appear that this company doesn't need the Shark Tank; they appear to be doing just fine. Perhaps Jay wants to use the Shark's expertise in licensing to expand in that arena, or perhaps he wants the Sharks to accelerate his entry into retail outlets. Whether he gets funded or not, the Bev Buckle or Beer Buckle will benefit from appearing on the show. I predict server crushing traffic for this product when the show airs.
As for the Beer Belt Buckle, Shark tank viewers will probably like it and buy. It makes a great gift for a guy who likes his beer; I wouldn't mind seeing one in my stocking this Christmas! The question is whether the Sharks will like it. I can't see Lori Greiner going for this one- it's not a "girly" enough product for her even though it could lend itself to TV sales well. Kevin O'Leary will be all over this if licensing is in play- he's the king of "let's license this and bring it to all the big players." Mark Cuban might go for it; he's a self avowed beer guy. Even Daymond John might find this interesting as it could be considered a fashion accessory.
Whatever happens with the Beer Belt Buckle on Shark Tank in the season premiere, whether the sharks bite or not (I think they will), will come down to the numbers: is The Beer Buckle valued properly as a business, is there debt, are there sales, and so on.