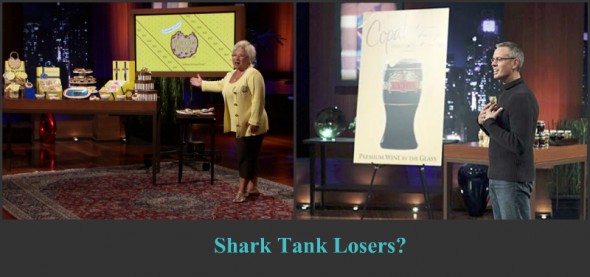 Do you hope you see Shark Tank losers when you tune in every week? Do you secretly hope for a "train wreck" pitch? Did you cringe watching the re-run of Copa Di Vino's owner James Martin? Whether or not you like James Martin, he's NOT one of the Shark Tank Losers: Copa Di Vino is a soaring success. The Shark Tank features follow-up reports on entrepreneurs who walk away with a deal, but what about those who don't? Let's take a look at a couple.
COPA DI VINO
In Copa Di Vino's second dip in the Tank, James Martin tantalized the Sharks with a $5 million dollar business bursting with orders.  He needed money to build a second facility. While no deal was negotiated, Martin's second appearance helped catapult Copa Di Vino to over $25 million in revenue. It's available in 45 states, over 13,000 retail locations and he did it all without an equity partner. Martin retains 100% equity in the business. As a seventh generation Oregon farmer, he's remained committed to rebuilding his hometown of The Dalles. Copa Di Vino has 150 employees from the region.
FUTURE: It'll be interesting to see if Copa Di Vino can continue its growth (a staggering 1,000% in 4 years) without Shark Tank publicity and emerging competition such as STACKED Wine LLC and Zipz. Copa Di Vino's point of differentiation is their wine cup is made of glass, while STACKED and Zipz are shatterproof hard plastic that feel like glass. If consumers are willing to drink wine from a box, does the average wine drinker really care if the cup is glass or hard plastic? Hopefully Copa Di Vino's wine has a loyal following.
BLONDIE'S COOKIES
Brenda Coffman of Blondie's Cookies burst into the Shark Tank luring the Sharks with nibbles of homemade goodness. Boasting a successful business of 26 years, Brenda was hoping to find a partner to help with her expansion outside of Indiana. While she left the Tank as on of the "Shark Tank Losers," her business is still growing.
Blondie's Cookies enjoyed the typical post show sales spike (1000% increase in mail orders in the first 24 hours), we spoke with Brenda about how she's been able to sustain and grow since then. She attributes their continued growth to their three core focuses:
Focus on product – her top priority is cookie quality. Making sure every bite of every cookie is perfect every time.
Focus on brand – as the brand ambassador of Blondie's, Brenda frequently attends events expanding awareness of her baked goodness brand. She said she gets lots of kids wanting their photos taken with her and she loves inspiring entrepreneurialism in the next generation.
Focus on community – Blondie's Cookies donates any unsold product to charities like women and children shelters, homeless groups and missions.
Blondie's Cookies continues to see double-digit increases across the Midwest market when other similar businesses are logging double-digit losses. She concedes her Florida stores are still a challenge. The population in their Tampa market is very transient. They've learned there's a 14-month turnover cycle that requires starting over with building brand awareness and sales. Plus given the cultural diversity, not every culture craves sweets like us Midwesterners. (Shocking but true). Business leases tend to be long-term and difficult to exit without being sued (Barbara Corcoran's advice), so Blondie's Cookies remains committed to the Florida locations and feels fortunate that sales elsewhere help offset any losses incurred there.
Shark Tank Losers are often Winners
It takes a lot of courage to go on national television and negotiate an equity deal, especially when you and your business are labeled Shark Tank Losers. These aren't actors, they're business owners that live down the street from you. We're lucky to live in a country where anyone can start his or her own business. We get calls from those businesses looking for creative solutions to their financing challenges.  We're proud to collaborate with them on ways to financially support their growth. We hope America continues to support them by being loyal customers.
Dan Casey, founder and CEO of purchaseorderfinancing.com, believes every business has a story to tell. He's been listening and helping small businesses grow exponentially since 2002. He uses a creative combination of finance tools and helps businesses understand what is purchase order financing and how can it help their growth? He's been featured in publications including Entrepreneur Magazine, Entrepreneur Online, Small Business Trends Online, The Washington Post, Crain's Chicago Business & American Express Open Forum. 

Visit www.purchaseorderfinancing.com and be sure to mention Shark Tank Blog to get a free subscription to Fast Company or Entrepreneur magazine.*

 

*Must qualify for financing to receive special offer exclusively for SharkTankBlog.com readers.