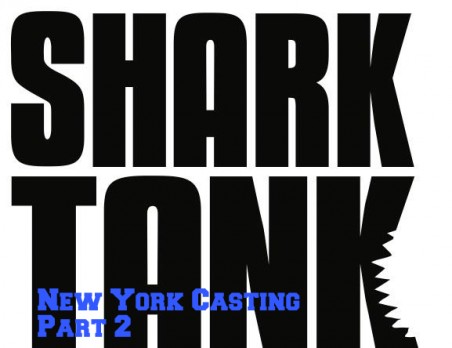 It was evident at the recent New York Shark Tank Casting Call that not all ideas are big.  The casting directors from Shark Tank were buried in a flurry of small ones.
Shark Tank Casting Call Standouts
Think about the jibbitz buttons you put in your kid's croc shoes…only it's a single plastic disc that you can only put in one particular flip-flop shoe:  My Favorite Flip-Flop (myfavoriteflipflop.com)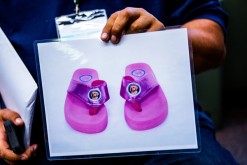 The most striking thing about this little pink sandal was it's purveyor, Fred Bergman, President of My Favorite Flip Flop.   a middle-aged fellow who reminded me a bit of Fred Flintstone with curlier hair.   He's New York based and let's hope his five minutes in the casting tank brought him success.
Pens For Bartenders (pensforbartenders.com) Owner, Jody J. Forness is as petite as the price tag sized biz card she gave me as she described her venture:  promotional pens for any business-distributed throughout the U.S.A. by every bartender in every bar.  Direct marketing to people who might be too drunk to say no to a free pen with your company's name on it.   She's the hub of distribution and based on her sample pen, she likely is the maker of your custom pen.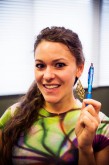 Who doesn't like a great back scratcher?  EZ Duzzit (ezduzzit.com) isn't reinventing the wheel, just adding tiny fake designer fingernails on your good old-fashioned back-scratcher.  Yes, if you break a nail you can replace it.  Did you say are there lots of colors and styles?  Oh yes.   Are the bamboo back scratchers themselves decorative-my goodness they are!  Right now James and Michele Mahoney are based in Duchess County, New York where they sell their product at pet stores (apparently pets melt when an EZ Duzzit is applied) and local craft shops and fairs.  If they made the best of their time in the tank, maybe you'll see them at Wal Mart someday.
But grander schemes were brewing in the waiting room.  Renee Marrin's  SnapMe Swimwear (snapmeswimwear.com) is a potential hit.   Ms. Marrin spent at least fifteen minutes in the room-an impressive feat when so many of the people I met were in and out within five.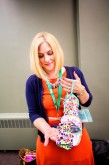 Poised, prepared and bearing samples of her product (children's swimwear with snap-crotch fastening); she's got a pretty successful business.  She plans on being to swim suits what Q-Tip was to cotton swabs.  Inspired by having to change a very sick in the pants toddler at the beach every 3 minutes she realized that a solid one-piece bathing suit was not working and there was a better way.   Distributed online and retail stores in the US and Australia, she might just get a big bite in the Shark Tank.
Another winner was Gauravjit Singh.   A little law had only just passed, allowing commercial use of Drones and his company, Dronecast (dronecast.com) has been up and taking orders to fly six-foot promotional banners for clients who want a big overhead bang for their buck.   I have no doubt that you will see Mr. Singh being fought over like chum by the Sharks on ABC.  He's got the patent, he's got orders and he's young and cool as a cucumber.
I was busy when Mr. Singh went to pitch, but I did notice that a few other entrepreneurs were held in the tank for MUCH longer than the five-minute pitch time clock.  SnapMe Swimwear was one of the first to linger while the casting directors discussed much more than "how much of your company are you willing to let go –of, how much funding are you looking for and what are your sales."
Casting Call Walk-ons
Two young pairs both had the Shark Tank casting call directors very interested.   Both were walk-ons (you had to register for an appointment for Shark Tank casting, but once word got out, blood in the water…the walk-ons took their shot and waited to be slipped into the mix.
The first of these upstarts were the guys from Select (meetselect.com) .   Their company isn't a new idea but an exclusive twist on the use of clubs in the retail and service industries (without any black-out days or restrictions on the membership either)    You sign-on for a Select Membership for a fee and you have discounted access to movie theaters,  hotels, restaurants, venues and retailers-presently in over 25, 000 locations-who all are happily participating because they are being hand delivered the very people who already buy from them  and return.  I spoke to President of Client Relations, Ben Unger before and after their pitch and he said the casting director was very excited about the partnerships they were involved with because they were businesses that he actually frequented.   They're hoping to find an 'explosive scaling partnership ' in the Shark Tank. Their CEO Carlo Cisco said they've only been up and running since –this year.  Stay tuned.
The other dynamic duo I met were Matteo Pelligrini and Gary Riger.  Gary did most of the talking for their App called GnamGnam because Matteo's Italian was a little stronger than his English. (gnamgnamapp.com) .  Just when you think you've seen every app possible, and knowing that apps generally don't get a lot of bidding wars in the Shark Tank because it's so high risk, it was thrilling to see these guys spend so much time in the casting room.   The GnamGnam app is IOS and Android and basically, you order food  and service from one of their partners (grocery stores, stadiums, restaurants, hotels) using their app and it is brought right to you and fast.   Their end-user is someone like you or me but it's clear from their website that they are selling their idea to the thousands of businesses out there who would link up with GnamGnam.  It's similar to Select's model in that here is a small business that's created a service that delivers repeat customers to your doorstep.   They left their casting session after a long nearly 20 minute session, very upbeat and excited.  It wouldn't be a reach to say they would be a great fit on the show.
More Shark Tank Casting Call "Stars"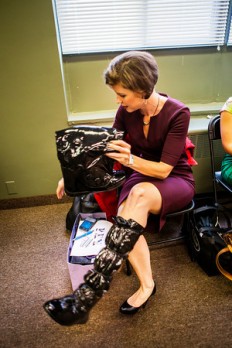 One of the first people I met that Thursday at the Small Biz Expo was Cassandra Droogen.  Easy on the eyes, she drew my attention right to her product concept because she was wearing it.   Cassandra is the creator and CEO of P.Y.S.I.S. (pronounced 'PIE-seez').  She coined it's logo, 'The Posh Galosh' and has her ducks in a row.   You can purchase the galoshes now at pysis.com but she wants to get real distribution and expand her designs and that requires a Shark.   When you google PYSIS, her company is top of the leader board, she's totally socially networked (her twitter feed doesn't really talk about the galoshes so much as churns out positive isms, but how much can a boot really tweet anyway?  The idea is that these galoshes are worn over high-heeled shoes by city girls.  Any height of heel, any style of pump.  From a distance they merely appear to be regular fashionable boots.  She spent 10 minutes in the room so she seems to have a shot at consideration for prime time!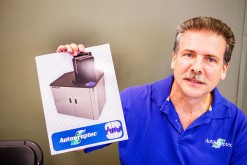 I'll wrap this post with a mention of a great inventor who's quiet demeanor had no bearing on the punch he was packing in the Shark Tank casting session.  Rick Rubin IS AutoWrapTec (autowraptec.com).  Mr. Rubin actually makes things. Machines to be specific-his entire career .     One day a friend was watching bus boys at a hotel take silverware and roll it in napkins and tape it all together.  His first thought was 'ewe, not very sanitary.'  So Rick went to work and made a portable machine that sterilizes and wraps silverware.  You can imagine the applications, Rick and his partner definitely have.  They've already sold several of these custom machines in the last few years.  Think cruise ships, hotels, restaurants, schools, stadiums, catering companies and beyond.   He's looking for investment to improve the machine, make more and sell more.   Auto Wrap Tec is such a great idea you can't believe it hasn't been done, which is essentially what the casting director told him.   You can sue me, but Mr.Rubin was in the room a long time and I am almost sure we will be seeing him on TV.
Till Part 3, see you next time.
Viki Reed is a writer/photographer from NJ but has spent years in Los Angeles and NYC pursuing careers in the entertainment industry.
Most recently her writing can be seen in Medium.com, anewdomain.net, and TechPageOne.

Her Tumblr page is:  http://vikireedphotography.tumblr.com/

And you can find her on Facebook at Viki Reed Photography and Viki Reed