Shark Tank fan Viki Reed recently attended the New York Casting Call for Shark Tank Season 6 and wrote this, the first in a series, of guest posts: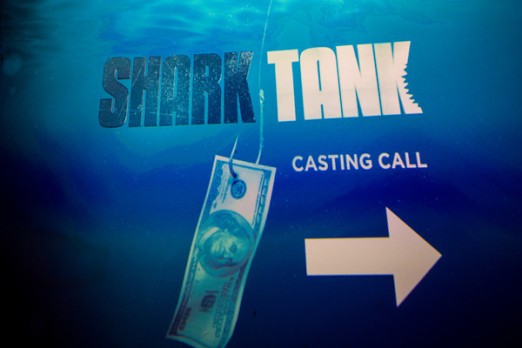 This week, the New York open casting call  for season six  of ABC's "Shark Tank" was hosted by  New York's Small Business Expo.  There were just two casting directors and an ABC representative making the calls from ten a.m. to four p.m.   The casting appointments were booked in advance but upon my arrival shortly after ten, the wait list was already 18 inventors long.
Having worked in television production years ago, I can confirm that the New York casting call session was like any other: a no frills environment with stackable chairs, a bit airless, with a nice young person to confirm your time slot upon arrival.
Shark Tank's crew of hopefuls deviated in one way from other Hollywood casting calls – they were nice.  I've watched a room of 8-year-old boys talking shop bitterly as if they were 50.  I've seen waiting areas stacked with stacked girls who would shoot lasers out of their eyes to eliminate the competition if they could.  Not so this Thursday, June 12th at the Pier 92 Convention Center.  Their big dreams didn't depend on someone else being better at selling pickles.   There would only be one Dr.Pickles at this audition.
New York Casting Call Standouts
Dr. Pickles: I mention Dr.Pickles straight-away because I'm all but certain you will see him on Shark Tank. He and a handful of others came in to truly sell their brand with passion .  Anyone who came to the New York casting call to pitch their business who didn't realize they were trying to win a spot on TV was going home sad.  Dr. Pickles was one happy guy.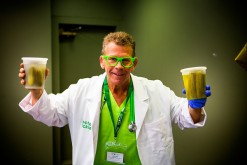 His real name is Harold Pitts, 54 and he was savvy enough to know his story is a key part of the pitch.
Begloved in rubber , preparing his Dr.Pickles pitch-machine:  every brand of certified Kosher, organic, locally grown, hand-packed, gluten-free, Vegan, unpasteurized pickle flavor bowled and displayed as samples with their original packing
I bee-lined to Pitts, passing the entire waiting line of inventors .  The doctor wasn't the first person I spoke to but he was the first person I think of from my afternoon at the Shark Tank Casting Call.
You can't resist the force that wears Kermit The Frog green hospital scrubs, eyeglasses and a neon green stethoscope and a doctor's coat with "Dr. Pickle" stitched over the chest pocket. (He sells the scrubs and jacket at www.doctorpickle.com, fyi.)
"I'm a 911 First Responder!", Dr.Pickles offers in place of a handshake.  "I live in Florida now.  My pickles are sold at over 30 Farmers Markets! "
His speaking voice boomed despite his normal stature.  He beamed with pride and has clearly reinvented himself after being at the epicenter of the most horrible day in America for 17 days salvaging what was left of the victims.  He had a nervous breakdown, got a divorce and moved to Port St. Lucie, FL, where he reinvented himself with pickles, beets, and a gazpacho which he calls his "secret weapon."
Dr.Pickles was beyond TV ready.  No problem at all envisioning Robert Herjavec  laughing and smiling before making it down the Shark Tank hallway of fate.
To back-up, all the pitchers had one minute to sell their idea.  Of course everyone was asked how much an investment they were looking for, and how much of their company they'd be willing to sell/lose.  Anything beyond was clearly an indicator of real interest.
Dr. Pickles was behind closed doors with the casting director for 20 minutes.   I'm sure it took time to wheel his pickle display table in and out. Dr.Pickles stayed in character, post-interview.  He didn't reveal details of his time in the pre-tank other than he thought it went really well.
Another pitcher, actress Tanya Wright (cast member of Netflix's "Orange Is The New Black") agreed as Dr.Pickles' happiness overflowed into my chat with her.  "Go on, you are so in.  Just never mind. You are SO in."   He happily offered pickles to the line-up as he wheeled to the rear of the room where he started, where his second wife waited ready to break-down the table.
Hairiette: Tanya continued telling me about her product.  I should preface by saying that she was professionally aware of the need to rehearse so like everyone else I spoke to, she pitched me verbatim as planned for The Room.  She deviated and was completely natural and lovely.  Some of the folks I met were incapable of being interrupted or stepping-out of the rehearsed  spiel.  I worried for them.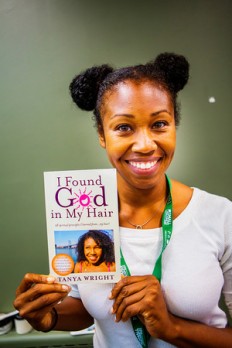 I was surprised Tanya didn't prepare her pitch as if she were meeting the real Sharks, because if I can offer any advice, that is precisely what you need to do.  Just as an actor auditions for a role wearing the right clothes, using the right accent and knowing their lines;  if you plan on getting the attention of two people who are stuck in an airless room for 6 hours and have seen it all…you play to win. You act as if the casting director is Kevin O'Leary.  Tanya was dressed down in sweats.
"My product is HAIRiette.  HAIR-iette."  Smiling and looking pretty she stood in front of her product samples which included a book called "I Found God In My Hair:  My 98 Spiritual Principals I Learned From My Hair.", some unlabeled and unpackaged jars of hair product for women with naturally textured hair, a big wide toothed comb and her Small Biz Expo Badge around her neck.  Basically she's selling a brand, orbiting around her hair.  Her character on "Orange Is The New Black", (a women's prison drama) is a hairdresser, she's got naturally textured hair, her spirit and vibe is energetic and one might possibly want what she has which is what the book, the hair products, and the comb are about.   She wasn't in the room as long as Dr.Pickles, but you can imagine there's a cache to having someone in The Tank that's a bit of a celebrity already.
You can see Tanya's bubbly video on her website http://www.hairiette.com/  and learn more about her brand there.  You can even ask her anything you want on Tanya Tuesdays on her site.
Dr.Pickles wasn't the first person I met  but he was among the first in my mind when I got home.
Warm Milk, Inc: The first person I spoke to at the New York casting call was a lady who remained standing , with a large bag and a baby-boppie around her waist that looked like a life-preserver from across the room and  a baby doll swaddled under her arm .  She was dressed in a chic retro cocktail dress from what appeared to be the sixties.  Her mouth was turned into the shape of a smile but it was clear she was nervous.
"Hi, I'm Patricia Peters."
When I asked for her biz card, a 5 minute hunt began with putting her props and product down, and a general sense of panic.
"I looked at her card.  It was clever and attractive; on one side it said "Delivering The Unexpected"  It was a pink card. Flipping over I read, 'Warm Milk, Inc"  now the card is white.  Nice graphic.  The Co-Founder's name (her husband, Markus Peters).    was on the card but not hers."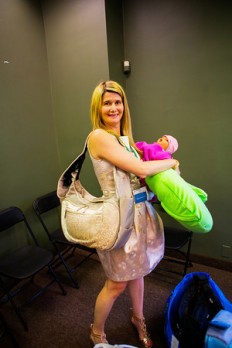 "Tell me about "Warm Milk!" (http://warmmilk.com/ )
The idea behind her product came pretty organically.  Trying to nurse her daughter on the fly in public.  She didn't have her boppie pillow .  She improvised by leaning the baby on her large diaper bag.  That was the product.  A large diaper bag that has a built-in boppie shaped nursing pillow built into it.
The bags have nice designs and can be found in 26 stores in the US and Canada. Availability in that many locations could be plus in The Tank if she makes it through the next few rounds, but she better have fat sales figures or it won't matter.    On the site there's an illustration of how to use the bag but no photos of the interior.
I took a few photos of her and the Warm Milk Bag. She has a shot.  She's got a nice website,  several products.  She's looking to get exposure for her products and partner.   Businesses by moms are popular on Shark Tank but the baby market is competitive with huge players and as they say, shelf space in retail stores is hard to get and critical to striking it big.   Her best shots are Daymond John and Lori Greiner.
She moved up a chair closer to the door and I moved on , to the next innovator….
Read Part Two of the Shark Tank New York Casting Call!
Viki Reed is a writer/photographer from NJ but has spent years in Los Angeles and NYC pursuing careers in the entertainment industry.
Most recently her writing can be seen in Medium.com, anewdomain.net, and TechPageOne.

Her Tumblr page is:  http://vikireedphotography.tumblr.com/

And you can find her on Facebook at Viki Reed Photography and Viki Reed