This summer Slawsa should be on everyone's shopping list if you're serving hot dogs and hamburgers for cookouts. It's a true "all in one" condiment for hot dogs and it adds a nice taste to burgers too. Since connecting with Julie several years ago, she's quadrupled her distribution to over 7200 stores and counting. I caught up with Julie, who impressed the Sharks with her austerity, to see what's cooking with Slawsa since she aired last fall.

Slawsa gets National Recognition
"We've had a lot going on," Julie beams, "I'm sure a lot of Shark Tank entrepreneurs say that, but it's true! We're real excited that Registered Dietician Ashley Koff is doing a 'Better BBQ' segment with Slawsa. We're on her healthy items list; it's an endorsement that can't be bought. We also taped a show with Dave Ramsey – he's good friends with Mark Cuban – and he told me  my statement about fiscal responsibility resonated with him and came up in a conversation."
"Slawsa recently had a full-page editorial in US AIR magazine. It was exciting because we were doing a Shriners charity golf tournament with NFL players and people kept saying, 'I think I just read about this on the plane.' We have all kinds of media events lined up, a few of which I can't discuss."
Summer Slawsa for Cookouts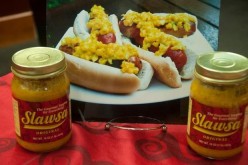 Julie's cooking up two new flavors for the summer Slawsa cookout season. "There's a Fire Slawsa which is Habanero based. It will provide some additional kick for people who like REALLY spicy stuff. We're also working on a low sugar version. Slawsa is low in sugar to start, but there are a lot of people looking for zero sugar with all natural sweeteners. The recipe uses monk fruit which raises the case cost $2, we're still not sure if that will prevent us from producing it. I have something else in development too, but I cant say what it is yet; it'll go beyond Slawsa."
"Even with Shark Tank, it's still an effort to get products on shelves.  The best compliment I got from buyer was when he said 'you're a marketer who launched a food company- most people I see are food companies figuring out marketing.' Buyers see everything.  The Sharks should ask food entrepreneurs what buyers look for – they have to weed everything out. The more unique the product is, the more opportunity there is for a buyer, even if consumer education is higher, it's still easier to get something unique on store shelves. Products that stand out can be grown quickly. On Shark Tank, products like Chapul and Veggie Mama should be easy for buyers to embrace."
"There's such a high turnover for food companies. Many fail because people think getting it on the shelf is the end of the line. It's only the beginning; once it's on the shelves, you need to get it OFF and into consumers' hands. That's why only one in seven food companies makes it 5 years. It takes 7 years on average to turn a profit – a longer road than most businesses because of the low margins in food."
Shark Tank Effect
"If we did a deal with one of the Sharks, I could have utilized their celebrity in marketing. That's the advantage I have as a marketer – I am focussed on marketing Slawsa in the most efficient way possible. You need to present a marketing program to buyers along with the food. The main thing is, I'm not reliant on Shark Tank for buyer meetings. Realistically, my segment will only air on ABC one or two more times before syndication. I'd  rather get media attention for the product, not the Shark Tank appearance. A lot of people in the food industry know how unique and different Slawsa is; the Sharks didn't see that, but people in industry know. The media exposure we have coming down the line is based on the merits of Slawsa, not the Sharks."
"Shark Tank was such a great experience, but it didn't turn out the way I wanted. But things happen for a reason. All in all, I'd say the appearance advanced us six months."
"I wouldn't be in this position if I didn't learn from others. A lot of people ask for my advice and support. I like to believe with my help they won't make mistakes. Some people say I should be charging for my advice, but when you do good for people and help someone out, its gonna come back."
Clearly Julie has the right product, plan and attitude. I personally watched people sample Slawsa hundreds of times and not one person has said they didn't like it. Food entrepreneurs should read everything Julie writes and follow her lead. She has the recipe for success in the food business!