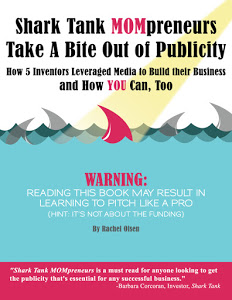 There are a bunch of Shark Tank Books out there and the latest is Shark Tank Mompreneurs Take a Bite Out of Publicity by Rachel Olsen. Rachel runs the website Best Mom Products and she interviewed 5 Shark Tank Mompreneurs (I call them "momtrepreneurs" but you get the idea) about how they analyzed and evaluated media and the right opportunities for their businesses.
Whether you want to get on Shark Tank someday or you just like the show, it's a must read. It has lots of behind the scenes info (like you find on Shark Tank Blog's Interviews Page) about how these 5 successful Shark Tank Mompreneurs made it to The Tank.
The featured mompreneurs are: Amber Shaub from Rufflebutts, Tiffany Krumins from Ava the Elephant, Megan Gage from Hot Tot, Betsy Johnson from SwimZip, and Shelly Ehler from Showno Towels.
There's a chapter full of "On-Set Secrets" and another on "Insider Advice on Swimming with the Sharks." There are also some "universal lessons" for all business people:
1. Presenting your pitch confidently: How to craft a compelling story and turn it into a winning pitch.
2. How to prepare for Shark Tank or any other mass media outlet.
3. Overcome fears and learn how to "figure out" the process of publicity
Barbara Endorses Shark Tank Mompreneurs
Barbara Corcoran had this to say about this book:
"As a Shark, I've been in the tank with these entrepreneurs and I can tell you Rachel gets right to the heart of how they succeeded. Shark Tank MOMpreneurs is a must read for anyone looking to learn the inside secrets of getting on Shark Tank and landing a deal, or getting the publicity that's essential for any successful business!"
Whether you're a "Mompreneur," Shark Tank fan, or you're just looking for a good business book, Shark Tank Mompreneurs Take a Bite Out of Publicity by Rachel Olsen is sure to please.
The book is only $7.99 and can be found online through this link.
Check it out. If you read it, Shark Tank Blog would love to hear your opinion!