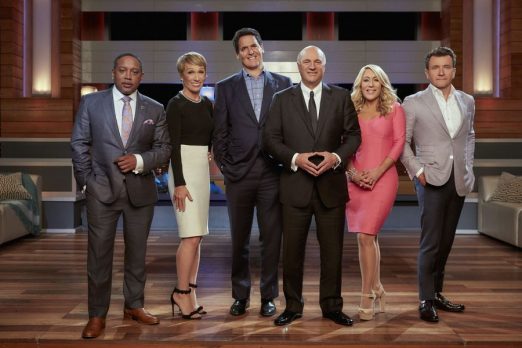 It's almost time for new Shark Tank Episodes and this season 9 preview has all the info a Shark Tank fan needs to get the season off to a great start! The biggest change in season 9 is the show airs on Sunday nights at 9 PM eastern – quite a change from the Friday nights fans grew accustomed to. Let's hope they don't lose too many viewers to Sunday Night Football!
Season 9 Preview: More Guest Sharks
Guest Sharks add variety to the show and this season there are some BIG SHARKS jumping in the Tank with the regulars. The most notable guest Shark is Sir Richard Branson, the world-famous billionaire entrepreneur and philanthropist. Branson has a Shark Tank connection: he invested in DoorBot (since renamed "Ring"), a smart phone enabled video doorbell. DoorBot left the Tank without a deal in season 5, but Branson saw a friend using the product and less than three days later, he joined in on a $28 million venture round. He invested in later rounds, too.
Other guest Sharks in season 9 include: Sara Blakely, the billionaire founder of Spanx, an intimate apparel company; Rohan Oza, self-proclaimed "brand messiah" and founder of Smart Water; Bethany Frankel, reality TV Star and founder of Skinny Girl Cocktails; and Alex Rodriguez, the former All Star baseball player turned entrepreneur. Rodriguez had the biggest major league contract of all time, but he also owns A-Rod Corporation – a company that invests in and builds real estate projects, in addition to owning car dealerships and high-end health clubs.
The ABC press release for season 9 promises "heated fights between the Sharks" as well as some "touching moments." As in years past, an update segment appears in each episode.
Other news for Season 9
ABC threw out the red leather chairs an oriental rug from the set in seasons past. Instead, the Sharks sit in a more modern, contemporary setting. The Sharks also reach a season record in dollars invested, though ABC isn't saying how much. To date, the Sharks invested over $107 million in various businesses. Shark Tank reaches the 200 episode milestone during season 9, an episode that's sure to get a lot of hype.
Whatever happens in the new season, Shark Tank is a proven commodity for ABC. Even though ratings were down in season 8, the show has a loyal following. People like the inspiration and innovation (and the occasional train wreck) on display each week. Remember to tune in October 1 and check the Shark Tank blog for your Shark Tank Season 9 preview, review, and update information every week!
Enjoy the show!