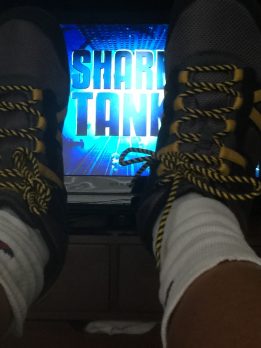 Steve Sashen sent me a new pair of Xeroshoes so I could do a Daylite Hiker review. The company aired in season four as Invisible Shoes and changed their name to Xeroshoes after their original air date.  Since then, they created many different versions of their original Huarache sandals. My personal favorite is the Amuri Z-Trek, but I also frequently wear my Ipari Hana shoes as "dress shoes;" I even wore them to my daughter's wedding!
The newest addition to the Xeroshoes line is the Daylite Hiker series. Made for men and women, the Daylit Hiker is a "boot" with the famous Xeroshoes minimalist sole. They have a bit of ankle support and look like a traditional hiking boot. Like the Apari Hana and the Ipari Prio, they have a solid upper portion and plenty of wiggle room for your toes.
Daylite Hiker Review
When I opened the box, I immediately noticed the Daylite Hiker looked good. It has a hiking boot look that's sleek and wears well as a hiker or a casual shoe. Like other Xeroshoes products, it fits well and feels good on your feet. For years, when I lived in the cooler climate of New England, I wanted a "barefoot boot" like this. It gives the barefoot feel on a cold snowy day. While it certainly isn't a snow boot, I'd wear it after the shoveling was done.
Now that I'm in Florida, my Daylite Hiker will be my go-to shoe for pier fishing and strolls around town. As I said, it's a nice casual shoe. The upper is highly water-resistant ballistic mesh and there's a toe bumper for those rocky paths. They're incredibly lightweight – just 10.2 ounces each. I have socks that weigh more than that!
I tested the Daylite Hiker for this review by going to an art festival, walking through some Florida scrub, and fishing at the pier. In each instance, I had that barefoot feel I like, but I knew I wasn't going to stub my toe or get cut by sharp brush, rocks, or glass. The adjustable straps let me tighten the upper to the perfect fit and my toes never felt cramped. When it isn't sandal weather or when I want a different look, the Daylite Hiker will be on my feet. I look forward to wearing them out.
Xeroshoes
Like other Xeroshoes, the Daylite has a 5000 mile warranty on the soles. That's a lot of hiking! If you're a Xeroshoes fan, you'll love these shoes. If you haven't tried them yet, this is a good product to get introduced to the barefoot sole. Steve still runs in his Xeroshoes – something I'll never do – but the Daylite is for hiking. Save the marathons for other Xeroshoe products and give the Daylite a test drive on your favorite trail. You won't be disappointed.