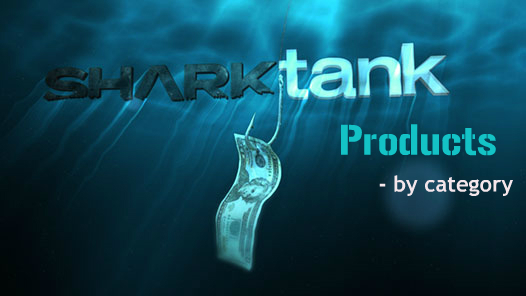 Shark Tank Products by Category
To make things a bit easier, we have organized all Shark Tank Products by category.
Every effort has been made to categorize items appropriately.
---
---
The main Shark Tank Products page has an alphabetical list of ALL Shark tank products.
Shark Tank Blog aims to be the most complete and comprehensive resource for finding products and services that appeared on the hit ABC TV series, Shark Tank. Each week, hopeful entrepreneurs and business people pitch a panel of wealthy investors seeking an investment to get their business started or to accelerate growth. There are many Shark Tank Success Stories; there are failure stories too.
Shark Tank Products listed on this site contains links to alphabetical lists of Shark Tank Products by Season, Category and by Episode.
Many businesses, through the Shark Tank Effect, gain a large boost in sales, whether they are funded or not. Some businesses do more in sales on show night than they were asking the Sharks for! Even when a deal is done on the show, it doesn't always go through. There is a due diligence process where the Sharks and the entrepreneurs get together and work out the details. If the parties cannot agree, the deal won't go forward. It is important to remember, a deal made in the Shark Tank is basically an agreement to continue the discussion and negotiations.
Regardless of whether a business gets funded or not, more and more businesses see the value of putting "As Seen on Shark Tank" on their marketing materials.
The following businesses have ceased operations and are out of business:
50 State Capitals Deck
Original Man Candle
Souls Calling, Inc.
Toygaroo