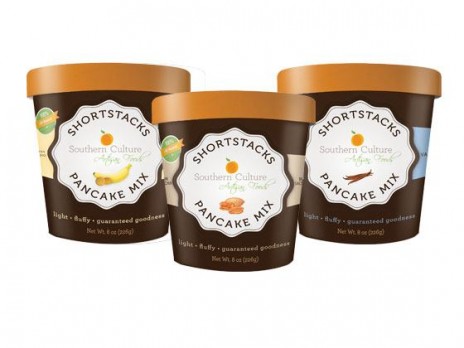 Erica Barrett dishes out her short stack pancakes to the Sharks in episode 520 on February 21. She started making artisan breakfast foods a little over a year ago under her brand name, Southern Culture Foods, when she couldn't find quality pancake mixes in her local grocery store. She calls her mix "Short Stack Pancakes," but after tasting them, most folks want a full stack!
Erica is a real go-getter. She hasn't quit her day job yet. She still assembles her mixes at night in a commercial kitchen near her Atlanta home, even though she's generated over a half million dollars in sales in just about one year!
Southern Culture's short stack pancakes are available on Amazon and in over 100 "mom and pop" gourmet food shops nationwide. Anyone who can get that kind of market penetration in a year is definitely a Shark Tank style entrepreneur. She probably wants the Sharks' connections to get into national chains. In addition to short stack pancakes, she sells waffle mix, BACON rubs, syrup, and Southern Culture gift boxes filled with breakfast delights.
My Take on Short Stack Pancakes
We have pancakes, bacon, and eggs every Sunday for breakfast. I make my pancakes from scratch because they taste better than the boxed mixes from the store. That's why Erica made her short stack pancakes mixes, because they taste better! That said, I'm probably not her customer – unless I sent Southern Culture Foods as a gift (which I very well might). Erica is targeting the discriminating breakfast eater who doesn't want to take the time to make pancakes and waffles from scratch.
There are many folks who would buy her short stack pancakes mixes. Look at the "gourmet foods" section in any super market; there are a lot of offerings and people buy the stuff. Erica has a nice niche, I couldn't find any "artisan" pancake mixes in my local store this weekend – so it appears there is little competition in the space. I am IN on her business, but I want a FULL STACK of pancakes!
Will Sharks Waffle on Pancake Mix?
Erica has a good shot at a Shark investment. She has proof of concept and she's demonstrated that she can go out and get the business. What she needs from the Sharks is money to amp up production and a bit of help getting in the door at Big Box markets. I expect a spirited pitch from Mrs. Barrett!
I also expect multiple offers from the Sharks. I am sure they'll all taste (and love) the short stack pancakes, and offers will follow. Any one of the Sharks could bid on this. Robert has a history of investing in the person behind the pitch and Erica is going to come off as a hard charger. Mr. Wonderful will want some kind of royalty (his bidding strategy is getting tired). Barbara could jump in too.
Daymond lies good food and if he feels he won't eat all the profits, he'll be IN too. Mark will bid if he feels he doesn't have to baby-sit Erica; he likes entrepreneurs that need a nudge, not a full-fledged push. I fully expect Erica to get a deal, the question is: which Shark likes pancakes?!?