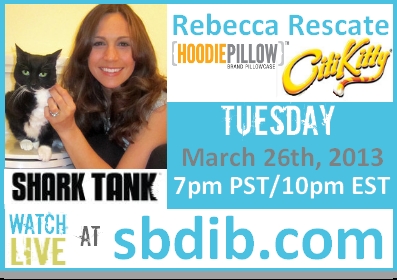 Carissa Dunphy, the hostess with the mostest of the Small Businesses Do it Better show has invited me back on Tuesday, March 26 to co-host with her as we interview Rebecca Rescate. Rebecca made Shark Tank history as the only entrepreneur to appear on the show a second time with a new product, the Hoodie Pillow. Carissa is a huge Shark Tank geek (like me) and this will be my fourth appearance on her show.
Small Businesses Do It Better
Each Tuesday night at 10 PM EST/7 PM WST, the Small Businesses Do it Better show podcasts live. Shows feature all kinds of small business people, including many Shark Tank alumni. Carissa recently scored a huge coup when she had Barbara Corcoran on for a live interview in Small Businesses Do it Better episode 52.
I was a featured guest with my former business partner as we talked about the Shark Tank Blog in episode 42. I've also sat in as a guest host a couple of other times. Carissa also did a guest post on Shark Tank Blog.
Rebecca Rescate on Small Businesses Do it Better
I did an update on Hoodie Pillow and a pre-show interview with Rebecca and I asked her if she'd like to appear on Small Businesses Do it Better with me; she said yes! While I'd like to get more updates, I am more curious about her fledgling consulting business. Rebecca wants to be a Shark herself and she's taking the first step by helping small business people take their inventions to market. That's what she did with Hoodie Pillow, and now she's on the hunt for the next successful, mass appeal product; who will be next?
The show promises to be informative and fun (I like to bring brevity to every situation), so mark your calendars and tune in!
Here a link to the Small Businesses Do it Better website. The "promo video" below was shot before the Rebecca Rescate episode of Small Businesses Do it Better was rescheduled. The show airs on March 26.