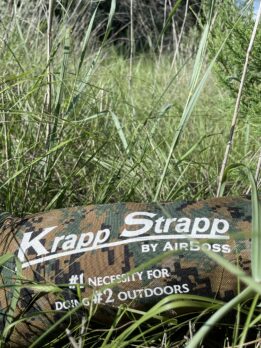 Keith Lindsey, the founder of Air Boss Motion Decoys in Jacksonville, Texas, recently revealed his inspiration for one of his best-selling products, the Krapp Strapp.
This unique invention was born out of necessity and a desire to provide comfort to those who find themselves tethered to the wilderness, facing a primal urge far from the comfort of modern conveniences.
The Eureka Moment
Keith Lindsey's moment of inspiration struck him while he was deep in the woods, chasing after a couple of lost cows. He candidly shared that he felt an overwhelming urge to answer nature's call, an experience well-known to outdoor enthusiasts. However, his aging joints and years of strenuous activities left him struggling to find a comfortable and hygienic solution. He realized that he couldn't be the only one facing this dilemma, and with his background in product development, a solution was in the making.
The Birth of the Krapp Strapp
Now 63 years old, Keith Lindsey founded Air Boss Motion Decoys after retiring from a corporate career. Following his woodland revelation, he set out to create the Krapp Strapp, a device that allows users to lean into a padded strap, relieving their joints while responding to nature's call. This innovative solution addresses the challenges faced by outdoor enthusiasts, campers, hunters, and anyone venturing into remote places where restrooms are a luxury.
Practicality Meets Skepticism
The Krapp Strapp has found its way into the backpacks of many outdoor enthusiasts, particularly hikers and older adventurers with joint problems. However, not everyone is convinced of its practicality. Some, like noted Wyoming outdoorsman Paul Ulrich, express concerns about its use in grizzly country, fearing a scenario reminiscent of "Jurassic Park." Despite the skepticism, the Krapp Strapp has gained a loyal following for its utility and convenience.
Embracing Humor
Keith Lindsey takes the humorous aspects of his product in stride. Many customers buy the Krapp Strapp as a novelty gift, often targeting that one family member or friend who always seems to find a reason to take a break outdoors. With a significant number of women among his customers, the Krapp Strapp's appeal goes beyond practicality. Pockets on both sides of the device accommodate not only toilet paper but also scented wet wipes and hand-cleaning supplies.
Expanding to New Markets
Beyond outdoor enthusiasts, the Krapp Strapp has potential applications for people who work in remote locations, such as road construction crews. Lindsey envisions a future where every utility truck carries a Krapp Strapp, making the workday a little more comfortable for those toiling far from the nearest restroom.
What's in a Name?
Keith Lindsey's strategy for naming his products involves catchy names with a twist. The "Krapp Strapp" stands out with its quirky yet memorable name, featuring a doubled 'P.' This branding approach has undoubtedly contributed to the product's popularity.
The Krapp Strapp: Proudly American-Made
A noteworthy aspect of the Krapp Strapp is that it's 100% American-made. Keith Lindsey and his team produce everything in Jacksonville, Texas, ensuring quality and supporting local manufacturing. Keith Lindsey's journey from chasing cows in the woods to creating the Krapp Strapp is a testament to human ingenuity and the drive to solve everyday problems, no matter how uncomfortable they may be. The Krapp Strapp is more than just a product; it's a solution that provides comfort and convenience in the great outdoors.
Whether you're an outdoor enthusiast, a camper, or someone who works in remote places, the Krapp Strapp has become a game-changer in the quest for a comfortable and hygienic solution to nature's call. As this innovative product continues to make waves, it's clear that the Krapp Strapp is here to stay, offering a new level of comfort and convenience in the wild.
My Take on The Krapp Strapp
Back in my teens and twenties, I was an avid backpacker and hiker. My idea of a good time was disappearing into the woods for a few days and camping and fishing. I've relieved myself in the woods hundreds of times. If this were available back then, I would have bought one. Now, my idea of camping is when room service is late.
Will Sharks Think This is Krapp?
Kevin thinks "camping sucks" so he won't be a bidder. Neither will Lori or Mark. Both Robert and Daymond enjoy the outdoors, so they are the most likely Sharks to identify with the problem being solved here. Whether that translates into offers remains to be seen.