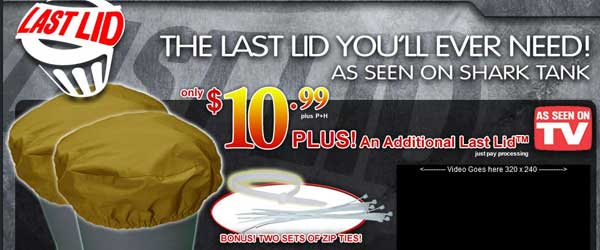 Entrepreneur Kevin Kiernan created The Last Lid, a canvas style cover made to stay on your garbage can, even if it gets knocked over. No longer do you need to worry about the lid blowing off and then being run over by a car driving by.
Kevin Kiernan will appear on Shark Tank to pitch The Sharks for an investment in his product, The Last Lid. Will the deal be right for Kiernan? He's made a deal with somebody because his new AsSeeOnTV website is coming live. The same people who have done the Anytime Grill are in the process of building his website and are supposed to have it live this Friday night.
According to quote from articles online, Kiernan claims to have made 200 covers right from his home. Obviously, he's struck a manufacturing deal because he's likely to have a substantial amount of sales when Shark Tank airs.
I'm not sure that he's done a deal with the Sharks. He may have, and maybe not. He's quoted as working on another half-dozen inventions which is something investors aren't always happy to hear. They typically want to stay focused on the one that they are investing in.
Still, Kiernan's product is fairly simple, can be outsourced and is something that the AsSeenOnTV group would automate. Who knows, maybe he sold the rights and he gets a royalty?
Kiernan may be turned into a pitch man, he's got the look to fit, and he does appear on the new website. The video presentation isn't live yet, it will be interesting to see if he is the pitch guy.
I think Kevin Keirnan will be an interesting Entrepreneur to watch on Shark Tank. We're soon going to find out if he's done the pitch to get the deal.  What do you think?