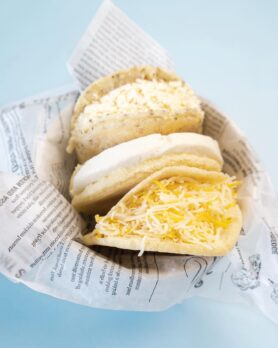 The entrepreneurial spirit of sisters and Toast-It founders Mafe Cabezas and Coco Viete is taking the culinary world by storm. On a mission to bring the vibrant and delicious flavors of Latin cuisine to health-conscious foodies, they founded Toast It, a company that specializes in guilt and gluten-free Latin foods. This dynamic duo's journey took them from their Venezuelan roots to the bright lights of Shark Tank, where they showcased their unique creations to the world.
The Birth of Toast-It
Mafe and Coco's journey with Toast-It began in their kitchen, where they sought to recreate their beloved Venezuelan mother's dishes with a healthy twist. As they experimented with ingredients and techniques, they quickly realized the potential to share their creations with a wider audience. Thus, Toast-It was born, a company that specializes in crafting authentic Latin dishes without compromising on taste or health.
Latin Flavors Reinvented
One of the remarkable aspects of Toast-It is its commitment to preserving the authenticity of Latin flavors while making them accessible to individuals with dietary restrictions. The sisters meticulously reworked traditional recipes to eliminate gluten and reduce guilt-inducing ingredients without sacrificing the taste that makes Latin cuisine so beloved.
From gluten-free arepas to guilt-free Buñuelos, Toast It offers Latin dishes that cater to various dietary needs. Their menu boasts a blend of classic and innovative items, all prepared with a health-conscious twist. Whether you're a fan of savory or sweet Latin dishes, Toast It has something to satisfy every craving.
Shark Tank Spotlight
Toast It's journey to the Shark Tank stage was a testament to Mafe and Coco's passion and determination. Appearing on a nationally televised platform allowed them to introduce their guilt and gluten-free Latin creations to a broad audience. The sisters' pitch should be met with enthusiasm and intrigue, catching the attention of several of the show's renowned investors.
The Shark Tank experience will not only provided valuable exposure for Toast-It but also help it garner substantial investments to allow the company to expand its reach and develop new products. This exposure will turn Toast-It into a household name, making Latin cuisine more accessible and healthier for everyone.
Beyond Business: A Mission to Inspire
What sets Toast It apart isn't just its delicious products but also the inspiring story behind the brand. Mafe and Coco's journey is a testament to the power of determination and innovation. Their mission to reinvent Latin cuisine with health-conscious choices not only caters to those with dietary restrictions but also encourages a broader audience to embrace healthier eating options.
Toast-It's journey from their family kitchen to the Shark Tank stage is a reminder that dreams can be realized with hard work, a dash of creativity, and a pinch of dedication. Mafe and Coco's story resonates with many aspiring entrepreneurs who dare to follow their passion and make a positive impact on the world.
Toast It, the brainchild of sisters Mafe Cabezas and Coco Viete, is a shining example of how innovation and dedication can transform traditional cuisine into something both delicious and health-conscious. Their journey from experimenting with their Venezuelan mother's recipes to appearing on Shark Tank is an inspiration to entrepreneurs and food lovers alike. Cheers to the sisters who dared to dream and brought the flavors of Latin America to our tables in a healthier, guilt-free way!