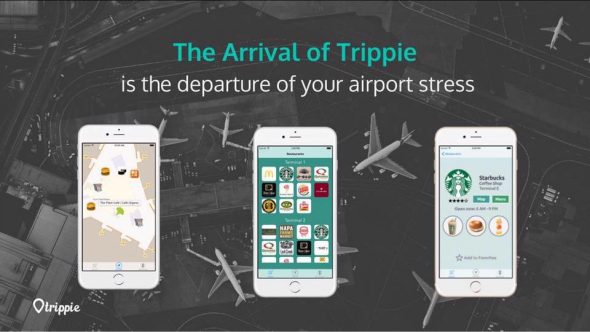 Ryan Diew invented the Trippie app after he tried to find an app to help him navigate an unfamiliar airport. He had a longer than expected layover and just wanted something that would help him find a decent place to eat without wandering all over the place. When he went to the app store, he couldn't find one, so he coded his own. He hopes a Shark will help him out when he pitches it in Shark Tank episode 904.
Anyone who's been to an airport knows they are confusing places. Each one is different and, unless you travel all the time, it can be hard to find your way around. The Trippie app gives users location based mapping in the airport, complete flight schedules, and lists of food and other services – all on your smartphone. The Trippie app beta even lets you order food for delivery at your gate!
Diew has the app working in ten major US airports with designs on going global. In a Shark Tank style competition at Colgate University, where Diew is on the basketball team, the Trippie app won first place and $32,000 in seed money. Once he finishes Colgate, he hopes to make a living with his app. He likely needs a Shark's guidance and business acumen – as well as more cash to get to his global goal.
My Take on the Trippie App
I don't travel as often as I used to and usually I'm going to the same, familiar airports. Every once in a while, I land in an unfamiliar airport and I can feel Mr. Diew's pain. Wandering around is a pain in the neck, an app like Trippie makes it a lot easier. I also like the food delivery option. I downloaded it and plan to test it the next time I'm in Tampa flying to Boston – just to see how it works.
I recommended the Trippie app to a friend who travels two to three times a month for business. He said it worked great and thanked me for the tip. While frequent travelers may find it more useful, even if you only travel once or twice a year, it comes in handy. I'm in.
Will the Sharks want to take a Trip with Diew?
I'm always leery of app pitches because there are so many that come out every day and most fail. When I was researching Simple Habit from episode 903, I remarked that there were a lot of meditation apps. There was too much competition in an already crowded app marketplace. The Trippie app has no competition. Diew is the first to create an app that navigates airports.
While more navigation apps may start to appear, Trippie is the first and being first is always good, especially with an app. The Sharks will like that. If Diew demonstrates a solid plan for profitability and a go-getter attitude, he'll field an offer or two. I'm thinking Mark will make a bid for Trippie due to the basketball angle, but Diew has to have the right answers to get that deal.