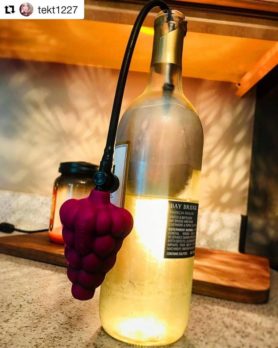 Wine Balloon Entrepreneur, Eric Corti and his wife enjoy drinking wine. The Corti's are not heavy drinkers, making it difficult to maintain a bottle of wine fresh. Eric came up with a solution to dismantle a blood pressure cuff and attach a balloon to it. He put the device in the bottle opening and pressurized it. This created a perfect seal and the wine now stays fresh.
His wife tested it, and their bottle stayed fresh long enough to enjoy the full bottle. He knew he had an excellent product, and they decided to invest money into making this vision into a real business. The Wine Balloon now sells online in many stores in the future.
He was offered $600,000 at which time he negotiated for a percentage of the future proceeds. Mark Cuban backed up and said he was out, leaving the deal at $500,000 with only Lori's money and he still hesitated when she decided to go back in with Cuban, but this time their offer was $400,000.
This made for anxious moments on TV as Eric hesitated as the deal went down. Finally, an agreement happened, at least on the set of Shark Tank. Still, every deal goes through Due Diligence and The Wine Balloon is no exception to that rule. With only a patent applied for, it faced scrutiny, when compared to other products.
For this reason, it's my understanding that this deal has not completed according to a tweet from @wineballoon last night and just confirmed this morning.
I tweeted last night that I would have taken the $500,000, jumped on the $600,000 and walked from the $400,000. All of the offers turned out to be a moot point given that there is no deal as of yet and at this point, I highly doubt to see one.
That doesn't mean its game over at this point, he's likely sold quite a few since the show aired. He's also going to have a new opportunity to go on other shows and keep doing his pitch, which ultimately, may mean he ends up making more money on the deal or finds another company that's interested in buying the product he has.
The Wine Balloon offers potential, and Eric Corti seems like a great guy. His experience on Shark Tank should prepare him for future negotiations. He will do well.