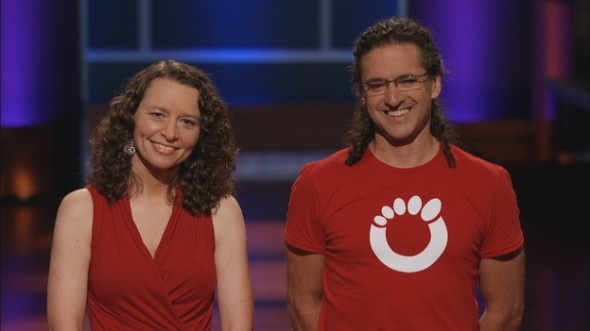 A Xeroshoes update was in the works when I spoke to Steve Sashen and Lena Phoenix before they aired on Shark Tank. When I first spoke to them, they knew the outcome of their pitch, but they didn't know how they'd be portrayed in their edit. When I called Steve and Lena to get a Xeroshoes update after they aired, they both filled me in on some behind the scenes stuff and their business' progress after appearing in Shark Tank episode 413.
Xeroshoes Update:  Shark Tank creates SALES
Steve Sashen has been building websites and selling online since the early 1990's. He is a "computer guy" at the core, but nothing prepared him for the onslaught of traffic the Shark Tank drove to the Xeroshoes website. "We had 20,000 people on the site simultaneously. The site's code was put under stress that it hadn't been put under ever before. Things basically blew up, and the site crashed between viewers and orders. Despite all the problems, we had a ton of interest."
Xeroshoes had more than interest, they had sales, a lot of sales. "We did 20% of the previous year's volume in the seven days following our air date. Since then, we've sustained middle of the summer type sales numbers, and that's a month after the show. We would have loved a deal with one of the Sharks, but it was an unprecedented opportunity for us to get the word out. It's definitely given us a bump."
A bump? I'd say it was more like a small mountain!
Xeroshoes Update: Show Time
Steve and Lena watched the show online during the eastern time zone airing so they could get a grip on what was happening (they live in Colorado where the show airs an hour later). Lena explains the scene: "We were watching at the office with a friend. In the press release for the show, we were listed first, so we thought we'd be on first. By the time the final segment was ready to air, there was only 8 minutes left. We were so crazed trying to prepare, we didn't have time to think about it and when we finally sat down to watch, I was so nervous, I was shaking."
"We were out on social media," Steve adds, "we had scheduled Tweets going out and we were live Tweeting. We also had a lot of customers working the social media, too. I had to laugh at Daymond's comments. He said Xeroshoes were 'string and rubber;' I remember thinking 'isn't FUBU just cotton and ink?' When he said someone could have these on a boat in thirty days, I didn't worry. We have patent protection and I think smart buyers know the difference between early adopters and cheap knock-offs."
"It's fun to hear what people say about our pitch. A lot of people thought the Sharks were trying to beat us down, but we held our own. People think we walked away from a good deal. They heard $400K, but we heard 50%. We weren't prepared to do that."
Xeroshoes Update: What's Next?
One thing Steve and Lena did a few days after they aired was sleep. "I think we got 8 hours sleep in three days," Steve explains, " we had so much interest."
"The phone was ringing off the hook," Lena adds.
"We had a ton of sales calls the Monday following the show," Steve continues, "just a lot of people who wanted to sell US something. Are you kidding? We also had a lot of investor interest. I'm curious to see if we end up doing a deal with one of these investors. He's a guy I've known for 37 years and we keep bumping into each other every 4-5 years. We also got a lot of calls from people who want to sell our product. We're developing a 'ready made' version of Xeroshoes for people who are too intimidated to make their own."
It sounds like Steve and Lena knocked it out of the park with Xeroshoes! They're approaching sales equaling what they were asking for in the Shark Tank! That's serious money any way you look at it!
"We were very pleased with the edit and the outcome, we couldn't have been happier – after all, it's called Shark Tank not entrepreneur tank!"
Chalk up Xeroshoes as a HUGE Shark Tank Success Story!