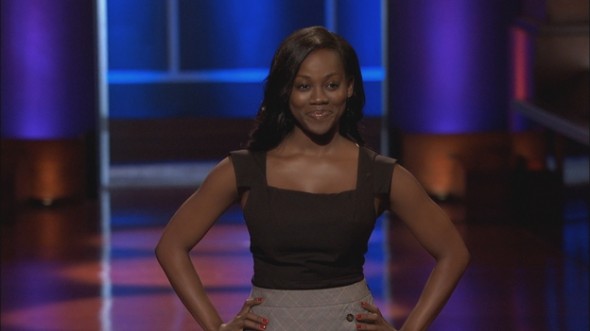 Bea Arthur says she gets asked about the other Bea Arthur about once an hour! Her parents are from Ghana and had no idea who that Bea Arthur was when they named their child, but Bea has been fielding questions about her name for her entire life. Maybe it was all those questions that gave her the confidence she exudes. I caught up with the Bea Arthur that appeared on Shark Tank pitching Pretty Padded Room to get her perspective on her appearance and an update on her progress since taping.
Bea Arthur in the Shark Tank
"I was a September taping, I actually got cast after casting closed. They don't tell you if you're going to air, but I was hoping I wouldn't air. While I was waiting to hear, I couldn't do another TV opportunity. I taped for 30-40 minutes and it went from unpleasant to unprofessional quickly. At one point, Robert said 'She doesn't know what attrition means' and asked me if I went to college. We taped right after lunch and Kevin was like a gassy, fussy, baby. At one point, someone asked O'Leary to calm down; he really had it out for me."
"I knew the taping was going to be bad before I saw the final edit. I was worried I'd get a "bimbo edit,' and I didn't want my business adversely affected. That's why I didn't announce my appearance on my website and Facebook page. We are a low-cost therapy provider; the Sharks were calling us 'low-end.' We're low-cost, NOT low end. I just shut down when it got disrespectful, I think it's more important to be kind than right. I had answers for the Sharks, but they didn't show it and made it seem like I didn't know."
The Seal, the Sharks, and the Sardines
"I've actually been to Cape Town – I know island he's talking about, it's beautiful," she says, referring to the island Kevin referred to in his analogy.  "I may be a good example for future Shark Tank entrepreneurs, but I'm also like that first seal with my business. We're one of the first to use the online therapy model in this way."
"I don't watch much TV, so I was never a fan of Shark Tank. My parents and my brother are, though I watched all the episodes to prepare. I'm just hungry to get my business to its full potential. We had some issues with the website on show night, but we gained around 500 new clients over the weekend."
"It's important to position yourself in this business. Even the name: Pretty Padded Room – a nice place to go crazy, sets us apart. The name and tagline were my idea; my mentor said Id be a fool to change it. We aren't for everyone, we aim for women, aged  25-35. Our strategy is to go narrow and go deep. We wanted to make it approachable and accessable; most clients get it and choose us because of that. I have an offline practice too."
"The Sharks (and most people) don't understand that most therapists don't make a lot of money.  I made $38K a year before starting Pretty Padded Room. There's some polarization in the therapeutic community about online therapy, but I'm surprised people are resistant to new technology. A lot of therapists offer sliding scales, and they're not sales people. We allow our therapists to take out overhead, which keeps our rates low. Because rates are reasonable, we get renewals."
Bea Arthur and Pretty Padded Room Moving Forward
"We got outside funding after taping and before airing. The good thing that came out of Shark Tank was I realized I needed a partner. Now I have a CTO and a team of developers to handle the tech and financial stuff. I realized after Shark Tank I needed help. We're working on using our model to create a platform for Healthcare IT. The same model can be applied to client reach for other medical disciplines."
"As for Shark Tank, I have no hard feelings. Now I have an investor up my ass every day! I still don't know the lifetime value of a customer and I'm not ashamed! When you're an entrepreneur, yo have to keep going, despite everything. If there are times you want to quit, you can't; just put your head down and keep working!"
I had one more question for Bea Arthur. She answers it on The Hot Dog Truck.