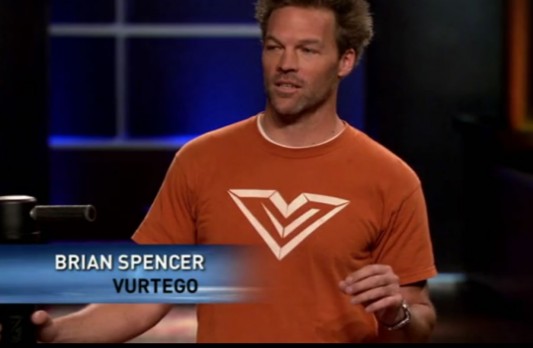 Brian Spencer comes to episode 202 of the Shark Tank with his product, Vurtego Pogo Sticks. The redesign of the traditional children's toy replaces the steel spring with an air-filled cylinder that can withstand up to 2000 PSI. The technology allows adults of 100 lbs and up, who were previously too heavy for traditional pogo sticks, to take the Vurtego Pogo Sticks to new heights – up to 10 feet for experienced users. Spencer developed the design with the help of his father. The pair hopes to market his product to the fitness and extreme sports markets. Will the Sharks jump at the chance to buy into this business?
Vurtego Pogo Sticks Shark Tank Recap
Spencer enters the Shark Tank looking for a hefty $500,000 investment in exchange for a 20% equity stake in his business. He impresses the Sharks with his spectacular entrance, a synchronized demonstration of the Vurtego Pogo Sticks that includes aerial acrobatics.
The valuation of the company may prove to be a problem. Spencer provides video footage of extreme tricks, showing off what experienced users are capable of. Kevin O'Leary wants to know about liability. Spencer explains that the Vurtego Pogo Sticks are similar to skateboarding and other extreme sports, but calls his product "deceptively safe," because users aren't dealing with speed. With 7,000 sold, he hasn't had complaints of serious injuries.
The Sharks want to know about valuation and marketing. O'Leary, Herjavec, and Cuban are all skeptical of the mass market potential of the Vurtego Pogo Sticks. O'Leary and Herjavec recommend that Spencer keep his appeal small, selling to the extreme sports market and raising his price accordingly.
Barbara Corcoran "can't believe that some kid hasn't killed himself." As a protective mother, she's out.
Mark Cuban addresses the mass market idea, saying "When you try to please everybody, you end up pleasing nobody. That's why I'm out."
Two Sharks are out. Kevin O'Leary quickly follows, telling Spencer to stick to his niche market and raise his prices. Daymond John agrees with O'Leary, saying Spencer "doesn't need" the Sharks. He's out.
Robert Herjavec tells Spencer that he's "the ultimate in cool," and that he's "got the whole look." He reiterates the market appeal for the extreme sports market. He's out.
The Sharks have spoken, and Spencer leaves the Shark Tank without a deal.
Vurtego Pogo Sticks Shark Tank Update
In spite of his failure to secure a Shark deal, Spencer took their advice to heart. The exposure he received from the show's airing earned him spots on other major television shows, and created a strong buzz about the Vurtego Pogo Sticks brand. He built himself firmly into the niche market of extreme sports and fitness, and continued to grow his company. Today, Vurtego Pogo Sticks are available through Amazon, his website, and other retailers. Although the Sharks didn't support his dream, Spencer took his product to the next level and became one of the Shark Tank's stronger success stories.
Posts About Vurtego Pogo Sticks on Shark Tank Blog
Vurtego Pogo Sticks Company Information
Video