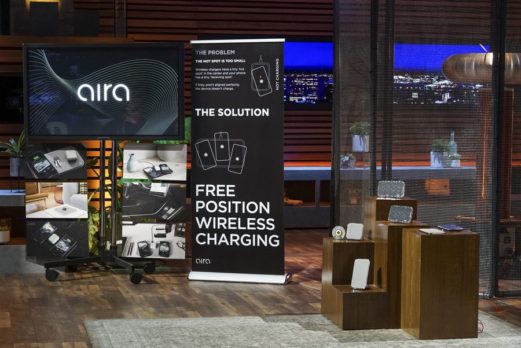 The Aira Charger wasn't Eric Goodchild's first venture into wireless technology.  He also runs Goodchild Engineering, a company that creates "musical Tesla coils, robotic instruments, and practical special effects." In fact, he holds the Guinness World Record for making the most powerful Bi-Polar Tesla Coil. He almost seems like he's more mad scientist than entrepreneur.
Eric and his business partner Jake Slatnick got together on the Aira Charger back in 2017. It's a wireless charging pad for smart devices. There are other wireless charging pads out there, but the Aira Charger promises to be less buggy than the others. The problem with wireless charging is smart devices with a wireless charger is smart phones and other devices have a sweet spot. If the device isn't in the exact correct position, it won't charge properly.
Of course there's no way to know if it works or not because they haven't made any yet. Aira is a rare pre- revenue company appearing in the Shark Tank. We just don't see too many of that kind of business on the show anymore. Goodchild and Slatnick have partnered with a company called Nomad to release their product "later this year,' but they aren't too clear as to when. There's also no pricing info on how much an Aira Charger will cost. It looks like the guys want a Shark to get the business off the ground.
My Take on The Aira Charger
Someone gave us a wireless charger a few years back as a gift. It didn't work. In theory, placing your phone on a small pad to charge is a cool idea, but it's no good if it doesn't work. If the Aira Charger performs as promised, it would be a hot item.
That's a big IF. I'm always a bit skeptical of a company that appears on Shark Tank without a product for sale. I think appearing on Shark Tank is like a Super Bowl appearance for entrepreneurs. Showing up on the show without a viable product is the entrepreneurial equivalent of being the 2019 Miami Dolphins. I'm out.
Will Sharks Get a Charge out of Aira?
This pitch has all the makings of the episode 1104 "train wreck" pitch. Goodchild and Slatnick show up in the Tank with no product, no sales and – based on the video promo – no clue. There's a clip of this pitch out there that implies they get dressed down on the set.
The moral of the story is, if you make it to Shark Tank, at least have a working prototype and some stuff to sell. I ampredicting a rather harsh set of "I'm outs" from the Sharks.