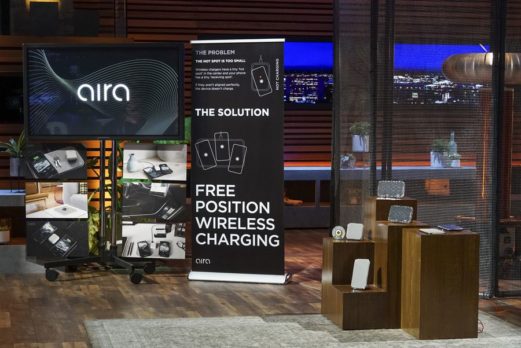 Eric Goodchild and Jake Slatnick want the Sharks to get a charge out of Aira, their wireless phone charging solution, in Shark Tank episode 1104. Aira uses "FreePower™" technology that charges your wireless device without a cable. The business is "pre-launch" and plans to have their product available "later this year."
Eric and Jake started the business in November, 2017 as Juic and rebranded the named to Aira. Jake has a background as an entrepreneur, he founded a hacky sack business and a menswear line and previously dabbled in a wireless contact exchange app. Eric is the tech guy. He's an electrical engineer by profession and has an extensive resume working with embedded electrical systems. His other business, Goodchild Engineering, designs high-voltage stage and theatrical special effects for museums and educational exhibits. He also holds the Guinness World Record for making the World's most powerful Bi-Polar Tesla Coil.
The two men partnered with a company called Nomad to bring Aira to life. Nomad is a lifestyle brand of smart phone cases that also sells a wireless charging device. Eric and Jake aim to sell a more powerful and versatile version. Their charger is a pad that can charge multiple devices at once. A common problem with wireless charging is smart phones have "sweet spots" that make it necessary to place the phone "just so" on the pad to ensure proper and complete charging. The Aira pad uses a proprietary algorithm to detect a phone's sweet spot and guarantee that it charges properly.
Since the business isn't selling product yet, it's a start-up. They likely want a Shark's cash and expertise to get the business up and running quickly. Will a Shark see the power of this opportunity?
Company Information
Posts about Aira on Shark Tank Blog
Aira Shark Tank Recap
Eric and Jake enter seeking $500,000 for 7% of the company. The Sharks are impressed with the giant Tesla coil the guys brought to the Tank. They're also impressed with the technology. The $30,000 a month burn rate is concerning to the Sharks. Their fears are calmed when the guys reveal they have an order for 33,000 units.
The bidding begins almost immediately. Kevin, Robert and Lori all make offers. Eric and Jake suggest they team up and they agree. All three Sharks invest a total of $500,000 for 15%.
Aira Shark Tank Update
The Shark Tank Blog constantly provides updates and follow-ups about entrepreneurs who have appeared on the Shark Tank TV show. The deal closed, but apparently Robert is the only Shark involved. In January, 2020 they exhibited at CES and were well received. At the show, they unveiled FreePower, a product that can charge multiple devices placed anywhere on the pad's surface. The company is looking into putting this new technology into cars, furniture and consumer electronic accessories. In August, 2021, the company did $12 million Series Seed funding round. It plans to use the funds to expand into the automotive and hospitality markets. As of November, 2022, the company is earning $4 million in annual revenue.