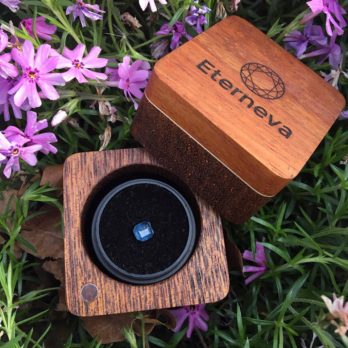 Adelle Archer first got the idea for making diamonds from ashes after the loss of a very dear friend. The friend's family gave Adelle some of her ashes to remember her by and Adelle wanted to memorialize her in a special way. She decided to send the ashes off to get turned into a diamond. When the diamond was complete, she presented it to her friend's family.
Getting diamonds from ashes is a long process. Ashes contain carbon which is necessary to make a diamond. The other component is pressure. Adelle ships the ashes off to a lab in Amsterdam. The ashes are put under great pressure in a process that takes 6-8 months. Customers can pick the shape and color of the diamond and have it placed in a jewelry setting. The theory is, a diamond is forever whereas ashes are just, well, ashes.
It costs about $7,000 to turn a loved ones ashes into a diamond. It seems expensive at first, but when you factor what a traditional funeral entails (coffin,cemetery plot, headstone etc) it actually ends up being cheaper. It's also a lot more meaningful, at least that's what Adelle thinks. She's pitching her new business in Shark Tank 1104 to get funds to build her own diamond lab so she can make diamonds from ashes at Eterneva HQ in Austin, TX. Will a Shark think diamonds are forever?
My Take on Diamonds from Ashes
Dealing with the death of a loved one is tough. Everyone goes through it. It's how you deal with loss that lets the memory of the departed live on or not. The funeral industry is a $14 billion dollar industry. About half of the deceased get cremated and the trend is rising for cremation. The costs of land, coffins and headstones are making the traditional funeral less attractive to families. Cremation is far cheaper – about $1000 – than a traditional funeral that costs $8,000 – $10,000 or more.
This leaves some financial wiggle room for families to consider making diamonds from ashes as a commemoration of a departed loved one. I think it's something I am going to put in my will for my own body after I am gone. I'm in.
Do Sharks Like Diamonds?
I think Adelle gets a deal tonight. She's a very intelligent woman and she's a marketing firecracker, but with a gentle and caring heart. While there are a half a dozen or so companies that make diamonds from ashes, Eterneva sets itself apart with its outreach to customers. Throughout the process of making the diamonds, Eterneva sends updates, photos and videos every few weeks. When it's delivery time, thet hire a personal courier to hand deliver the finished product. Eterneva doesn't come FedEx.
I think the Sharks will see her intelligence and know she has what it takes to make the business succeed. I think she fields multiple offers and ultimately accepts a deal from Mark. Eterneva is a business he can be "hands off" with. Mark likes smart, take charge entrepreneurs and Adelle fits the bill. The company just announced it is opening its own lab in Austin. I'm betting it was with Mark's help.