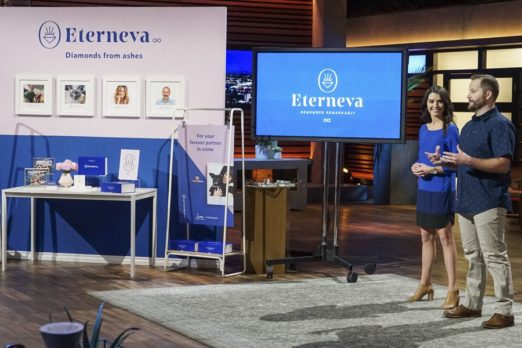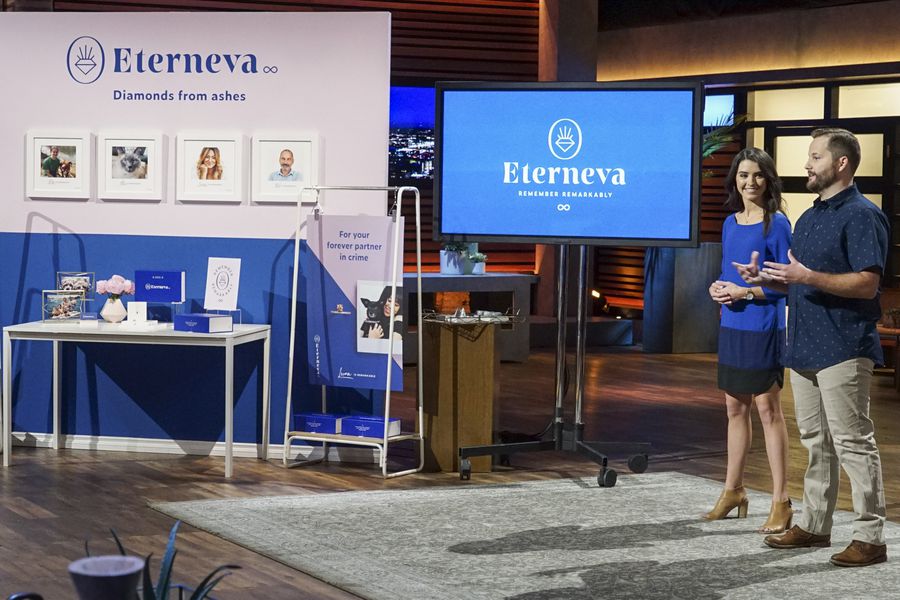 Adelle Archer and Garrett Ozar seek an investor for Eterneva, their business that turns cremation ashes into a diamond. The company got started in 2017 after Adelle lost a close friend and had some of her ashes. She wanted to do something special to memorialize her memory. After exploring different options, she had a diamond made from her friend's ashes; she presented the diamond to her friend's family as a memento.
This led her to start Eterneva. For around $7000, the company ships the deceased's ashes to a diamond lab in Amsterdam. In a process that takes about 8 months, the company compresses the ashes into a 0.5 carat diamond. Once the rough diamond is formed, it gets sent to a diamond cutter for refinement. Customers can customize the shape and color and have the stone mounted in a variety of jewelry settings.
Eterneva isn't the only business that makes diamonds out of ashes. There are several competitors, but Archer believes her personal touch differentiates her company from the others. The company also plans to open their own diamond growing lab in Austin later this year. With more people opting for cremation than burial, there are a lot of potential customers. They even offer the service for pets.
Archer  and Ozar have big plans. They likely want a Shark to help them set up their diamond growing lab. Will a Shark think this opportunity is a jewel of an investment?
Company Information
Video

Posts about Eterneva on Shark Tank Blog
Eterneva Shark Tank Recap
Adelle and Garrett enter seeking $600,000 for 5% of their business. After telling their story, they get down to numbers. Their first year in business they did $913,000 in sales. They're on track to do $2 million in 2019. The couple reveals they also have $2 million they raised from other investors.
That makes the Sharks uneasy. They're worried they won't be able to recoup an investment in this business. After some back and forth, offers are made then pulled off the table. Ultimately they do a deal with Mark at $600,000 for  9%.
Eterneva Shark Tank Update
The Shark Tank Blog constantly provides updates and follow-ups about entrepreneurs who have appeared on the Shark Tank TV show. The deal with Mark closed. In the aftermath of the show, Mark Cuban publicly defended the business after a prominent gemologist called the company a scam. This prompted them to do a publicly available study at TDI-Brooks analytical and chemistry lab which indicated there was enough carbon from cremation to make synthetic diamonds.
In July, 2021, the company raised $10 million in venture capital. In a press release announcing the funding, the company says it "is partnering with some of the largest enterprise players in the end of life space and is a major modernizing force for the funeral industry as a whole." As of April, 2023, annual revenue is $7 million.