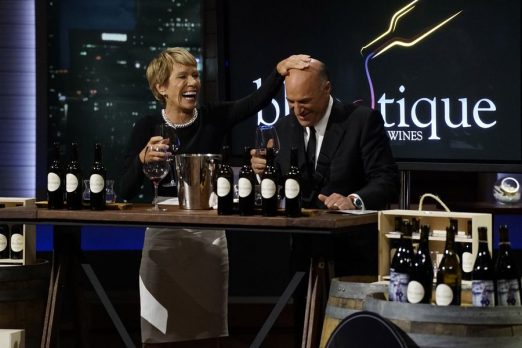 All the press about episode 819 says the Sharks get a bit tipsy making wine with entrepreneur Billy Dim's Blendtique Wine. Dim is a master sommelier who sells custom wine. When you go to the Blendtique Wine website, you choose different wines to blend together and design your own label. It truly is custom wine.
As part of his pitch, Dim invites the Sharks to blend and taste their own wines. Apparently, the Sharks overindulge! The press photos, like the one above, show the Sharks having too good of a time during the pitch. That could be part of Dim's strategy: get the Sharks impaired so he gets a better deal.
Dim's background is in the winery and hospitality industries. He knows many restaurants and hotels want private labeled wine and Blendtique makes the process easy and affordable. Now, anyone can have their own "house wine."  At $25 a bottle, it's not too expensive, either. He likely wants a Shark's help getting scaled up quickly.
My Take on Blendtique
I like a good bottle of wine. Red Zinfandel is my favorite, but I'll drink any kind. I usually have wine with a meal, so I'll pair my wine with what I am eating. I'm no expert, but I know a quality wine when I taste one. I've also been to many weddings with custom labeled wines; I'm not sure if the wine was custom, too.
I like the concept and I will probably try it out. I've spent as much as $250 on a bottle of wine – ten times what Blendtique costs. The interactivity of the "wine making" process and the custom blending intrigue me. For that reason, I'm in.
Will Sharks Drink Up?
Apparently, the Sharks do drink up, but will it translate to an investment? Other wine businesses fared well in the Tank in the past. Copa Di Vino – who was on twice and never did a deal – is doing $20 million in sales a year. Mr. Wonderful invested in Zipz because he wanted the single use packaging. Mark invested in BoomBox Beverages and Bon Affair – both are wine-based.
Since Mark knows about shipping wine, he may make a play for this business. Blendtique is all about customization, but wineries need to be licensed in each state they ship to. Mark's done the homework on the regulatory issues and can hit the ground running with this business – plus it has a different demographic than his other wine businesses, so expect a bid.
Blendtique would also be a perfect fit for Kevin's "Something Wonderful" platform. The product lends itself well to the wedding industry, upon which the aforementioned platform is based. What bride and groom wouldn't want a custom wine to commemorate their big day? Expect a bid from Kevin, too. We could see a Shark fight here, let's hope it doesn't turn into a drunken brawl!