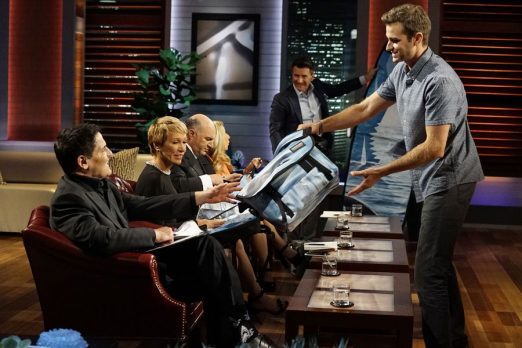 Aric and Alec Avedissian are the latest repurposed bag company to appear in the Shark Tank when they pitch Rare Form, their business that makes all kinds of bags from recycled billboard vinyl. Alec discovered surfboard bags made from the vinyl while surfing in Central America in 2012. When he returned to the states, he started looking for raw materials for his business.
Even though he didn't know a thing about business or making bags, he pushed forward, figuring it out as he went along. His first bags got made with the help of an auto upholsterer he knew. Now, the company collects 20,000 pounds of billboard vinyl per month. Once it's at their warehouse, it gets cleaned and sewn into backpacks, duffel bags, and many other products. Each creation is unique because no two billboards are alike.
Aside from being green, it appears the business makes some green. Customers love the style and sustainability. While they've only been in business a short time, their sales are expanding. They probably want a Shark to help them get into upscale retail outlets.
My Take on Rare Form
I like sustainability as much as the next person. What the Rare Form guys are doing is a good thing. They take something that would end up in a landfill and make a usable product from it – who wouldn't like that concept. The only thing is we've seen a few of these types of businesses lately: R. Riveter and Firefighter Turnout Bags to name two. Maybe recycled products are the future – that's why they keep turning up in the Tank.
I have several backpacks and bags and I'm not currently in the market for a new one, but if I were, I'd give them a shot. Each individual product is unique and they're helping the environment. For that reason, I'm in.
Will Sharks Recycle a Deal?
Like I said, it seems the recycled products theme is becoming more common in the Tank. Mark invested in R. Riveter in season 7, but Firefighter Turnout Bags crashed and burned, failing to get a Shark on board. Since many of Rare Form's products are geared to outdoorsy types, maybe Robert gets in on this.
Sales will be important, but the out-door theme could put Robert in the bidding mood. Mark had success with R. Riveter and could see some synergy with Rare Form. If the Sharkettes like the style, they could get in on it too. I expect multiple bids, but I have a feeling they leave without a deal.