Vinnie Pastore Makes Broccoli Wad Pitch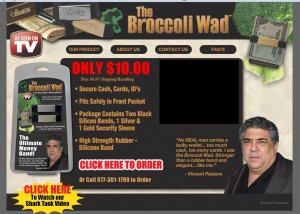 The Sopranos star, Vinnie Pastore went on Shark Tank with Broccoli Wad creator, John Gennero. The pair landed a deal with Barbara Corcoran in what she said is the worst deal on Shark Tank. Barbara quickly changed her mind when she convinced Pastore to join the deal.
and accompanied by Vinnie Pastore successfully negotiated a deal with Shark Tank's Barbara Corcoran in what started off as the worst deal she had ever seen on Shark Tank and turned into a deal she was excited about when she brought Vinnie Pastore in as a full partner.
What happened in this deal should show every entrepreneur to keep your mind open to possibilities even when the investor says they hate your idea! They can turn in a second and make the best deal ever.
This reminds me of a deal I made with a guy that wouldn't even consider talking to me until a mentor of mine got him to take a look at the company for five minutes. We ended up negotiating a $750,000 deal in a single meeting right after that.
The key to this deal is marketing and branding. Barbara knows it, she bit on it and ultimately, this is a great gift idea. Jeff Foxworthy pointed out to Barbara that this is a guy thing and most women wouldn't get the deal and that's what opened her eyes proclaiming this the Vinnie Wad.
He's right, I'm even thinking about getting one of the Broccoli Wads for myself as I hate carrying a wallet.
The Broccoli Wad is a band that goes around your cash that you carry in your pocket. It's simple, yet does the job. It's better than a money clip which can be awkward. Still, it's a fancy Rubber band, but it comes with a great story!
Will they make a ton of money with this product? I think they will as they bring it forward. Infomercial here we come.
They ought to be talking to Curt at AsSeenOnPC.com to see if they can make an affiliate product out of this as well. John and Vinnie, if you read my post, make sure you tell Curt I sent you to see him!