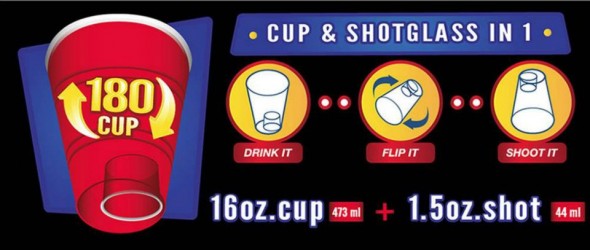 180 Cup brings a little bit of the frat house into the Shark Tank in episode 501. Entrepreneur Soloman Falls got the inspiration for 180 Cup from his various forays to college keg parties where more than a few shots were enjoyed. What 180 Cup does is take the standard "red keg cup" and turn it upside down – literally. It looks like a regular, red, disposable cup until you turn it upside down, which reveals a "shot glass" molded into the underside of the cup.
Presumably, the concept is you can use the same cup to do a shot AND drink a beer – just not simultaneously! Falls wants 180 Cup to be "The New Red Cup" that becomes the standard at frat parties and keg parties everywhere. He took great care to engineer his product so it won't interfere when playing  beer pong and flip cup.  Mr. Falls is likely looking for help with distribution or some sort of licensing deal.
180 Cup  Shark Tank Recap
Soloman enters and asks for $300K for a 15% stake in the business. He reveals the 180 Cup and tells the story, then asks "who wants to take a shot with me?" He's sold over 5 million in the past six months generating $385K in sales. The cup is in over 500 stores. Falls hires college kids to sell to college town stores. He uses Craigslist and social media to recruit and pays the college kids on commission.
Solomon hands out the cups and reveals they cost the same as the standard red cup. Daymond immediately offers $300K for 20% and wants an answer immediately. He sees licensing to colleges, beer companies, and sports teams as a new profit center. Falls hesitates and Daymond threatens to take the offer off the table. Mr. Wonderful wants to know more.
Solomon waffles and Mark Cuban thinks he's crazy. Daymond goes out, then Lori does too. Cuban likes the college network idea, and Solomon only has 1% of that market. Lori doesn't think it's for her, and she goes out. Mark likes his marketing, but thinks the product is too niche, he's out. JP DeJoria doesn't feel the passion, and he's out. Kevin goes out too. Daymond scolds him for not accepting his offer. Solomon urges Daymond to reconsider, but Daymond wants him to counter. Solomon says  $300K for 23%, Daymond counters with 30% and they settle on 25%.
180 Cup  Shark Tank Update
Daymond John was quick to renege on his original offer, but that didn't stop him from re-entering the arena and finally taking a bite out of the 180 Cup company. Since then, sales have continued to grow like the mysterious odor in a frat house, and Soloman Falls is laughing all the way to the bank.
The 180 Cups are now available through major retail outlets like Walmart. Wherever college students are ready to party, 180 Cups are there. No more dusty shot glasses for these classy party goers. They have their handy two-in-one cups, thanks to a deal done on Shark Tank.
A few years later, Solomon expanded his line, and he and Daymond parted ways. The full details can be found in the Beyond the Tank episode 202 update page. The business shut down in December, 2016 and Falla is now an account executive for Collective Soles, a sock and hosiery business.
Posts About 180 Cup on Shark Tank Blog
180 Cup Information