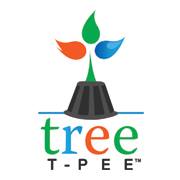 Tree T Pee is the brainchild of Mr. Johnny Georges of Arcadia, Florida and he's looking for some help in the Shark Tank in episode 501 to help his business grow. The Tree T Pee has been around since 1986 and its primary benefit is to help growers in the citrus states reduce water consumption. The Tree T Pee is a cone made from recycled plastic that covers the roots of young trees. In the warm, southern climates, it reduces water consumption per tree from 10,000 gallons of water per tree per year to 800 gallons per tree.
In addition to conserving water, it provides frost protection during the occasional and potentially catastrophic southern frost. When things get chilly in Florida, thousands of acres of citrus trees can be lost; good frost protection can mean the difference between a bountiful harvest and bankruptcy for an orange grower. It also comes in custom colors and can have logos printed on them. There are currently tens of thousands of Tree T Pees in use and the ever-expanding need for water conservation assures there will be continued applications for this product in years to come.
Tree T Pee Shark Tank Recap
The segment opens in Johnny Georges' home town and shows him working in orange groves. Johnny comes in the Tank and asks for $150K for 20% of the company. He starts to tell the story, and gets a bit flustered. He then demonstrates how Tree T Pee and discusses the economics of the product. Mr. Wonderful gets it and asks why he isn't selling it in California.
It costs $2.95 to make one and Johnny sells them for $4.50. He's sold over 127,000 units and they last for 20 years. He then tells how his dad invented the product. Mark wants to know if Johnny has approached any distributors and Johnny reveals he's only selling to people he knows.
Mark wants to know why he doesn't sell them for $7 each and Mr. Wonderful thinks it should be $12 each. Johnny wants to keep the price down because farmers can't afford it. Mr. Wonderful goes out, then JP DeJoria says he'll give Johnny the $150K for 20% because he thinks Johnny is doing the right thing. It was a tear jerker of a segment, even Mr. Wonderful got misty eyed!
Tree T Pee Shark Tank Update
Although the presentation was emotional, the business relationship between Johnny and JP has been solidly founded in mentorship. JP has taken pride in leading Johnny to new connections, helping him move the Tree T-Pee into select Home Depot stores for distribution not only to farmers, but to individual home owners. The pair are working together to bring the product to the international market, in hopes of expanding not only the business but the benefit the plastic cones can bring to drought-ridden areas around the world.
The Tree T-Pee started out as a business that was meant to honor Johnny's father, and has grown into something much larger than he could have imagined. It seems as if Johnny made an excellent partner in JP, and the company is growing steadily. Fast Forward to December, 2021 and the company is going strong with $5 million in annual revenue. As of August, 2022, the cost of a Tree T Pee has increased to $9.95. As of this time, the company is valued at $100 million.
Posts About Tree T Pee on Shark Tank Blog
Company Information