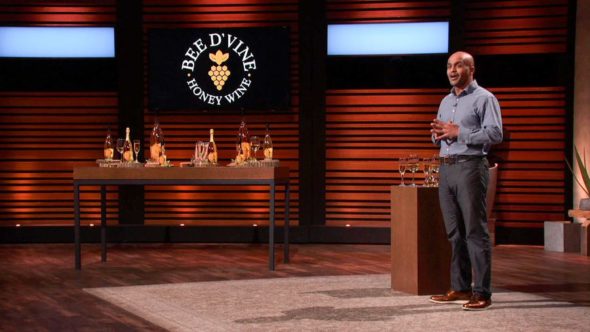 Ayele Solomon hopes the Sharks like Bee D'Vine, his honey wine business, in Shark Tank episode 1204. Bee D'Vine is honey wine or mead – the oldest beverage besides water in the world. It's still popular in Solomon's native Ethiopia and he hopes to turn the rest of the world on to his product. This particular honey wine doesn't have the sweetness of mead or the tannins of traditional wine.
There are two ingredients: raw honey and spring water. He ages the mixture in a barrel for 15 months, then for two more years in the bottle. This produces an end product that has "a layered bouquet of almond, honey suckle and jasmine."
Bee D'Vine is very eco friendly too. It doesn't require acres of vineyards, irrigation or all the other trappings of a traditional vineyard. Solomon's long term goal is to source wild honey from jungles all over the world, creating jobs and a viable reason for conservation. The winery is located in the Napa Valley and they opened a wine tasting room in The Ferry Building in San Francisco in December, 2019. The Ferry Building hosts a Farmer's Market several days a week.
A 750 ml bottle costs $49 and a 350 ml costs $29. There are also limited edition wines that sell for $349 for a 3 liter bottle. For now, they make their wines in small batches. Solomon is hoping the wine drinking public will embrace his product. He hopes a Shark will help him spread the word.
Company Information
Video

Posts about Bee D'Vine on Shark Tank Blog
Bee D'Vine Shark Tank Recap
Ayele enters the Shark Tank seeking $750,000 for 20% of his wine business. He has samples of four wines for the Sharks and they like it. Sales for the past year are $115,000 and he's only sold $400,000 in the past six years. A bottle costs $5 to make and sells for $29-$39. Kevin says most wine is sold for less than $14. Kevin is already in the wine business, so he doesn't make an offer. The four other Sharks decide to team up and offer $750,000 for 40% (10% each) and Ayele accepts.
Bee D'Vine Shark Tank Update
The Shark Tank Blog constantly provides updates and follow-ups about entrepreneurs who have appeared on the Shark Tank TV show. The deal with Mark, Lori, Daniel and Robert never closed. As of July, 2021, the company is still in business. They are sold out of some of their wines which can be purchased on a pre-order basis. In March, 2022, they are fully stocked. In May, 2022, they celebrated their 8th year in business. As of August, 2023, reliable revenue figures are unavailable.