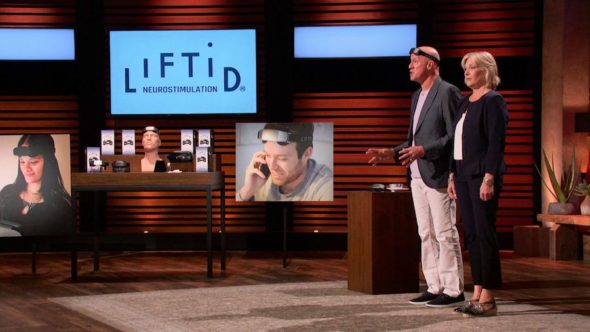 Ken and Allyson Davidov hope to get a lift for Liftid, their electric neuro stimulation device, in Shark Tank episode 1204. Ken has been in the import and product development business for over thirty years. Allyson is a Realtor and helps Ken with marketing. Ken works with inventor Dr. Theodore H. Schwartz, MD in getting Liftid to market. Schwartz is a very well credentialed neuro surgeon who created the product to help improve focus, attention and alertness.
Liftid is a headband with electrodes in it. Using a small electric current, it uses what is called Transcranial Direct Current Stimulation to stimulate certain areas of the brain. It acts as a substitute t chemical stimulants like caffeine, sugar or drugs. There are over 4000 medical studies that show this method "alters brain function by increasing blood flow, enhancing neurotransmitter release and activating neurons."
The product itself looks like a virtual reality headset without the goggles. It should be used for just 20 minutes a day and no more. A single unit costs $149.  Davidov helped Dr. Schwartz bring the product to fruition with the help of  Gadgetflow, which got it noticed worldwide and accelerated sales. Now, he wants a Shark's help taking it to the masses.
Company Information
Video

Posts about Liftid on Shark Tank Blog
Liftid Shark Tank Recap
Ken and Allyson enter the Shark Tank seeking $200,000 for 10% of their business. Ken is wearing the device. They tell their story and explain how the product works. They say they have a smarter way to get an energy boost. When the pitch is over, they invite the Sharks to try the product and they instruct them how to use it. The Sharks appear to like it, but Robert says he isn't getting a coffee boost. Mark reads the warnings on the box. It states "there is no medical benefit. Ken says it's for cognitive benefit. They sold 1240 units. Landed they cost $22 and they sell for $149.00.
Lori says she doesn't invest in products that make claims; she's out. Robert thought it was a horrific presentation; he's out. Daniel cannot connect to the product; he's out. Kevin says he has a headache and this is in the lexicon of the craziest pitches on Shark Tank; he's out. Mark says he tried to sell science without using science; he's out.
Liftid Shark Tank Update
The Shark Tank Blog constantly provides updates and follow-ups about entrepreneurs who have appeared on the Shark Tank TV show. This company sold a lot of units in the immediate aftermath of the original air date. As of August, 2023, they are very much in business with $6 million in revenue and a $25 million valuation.