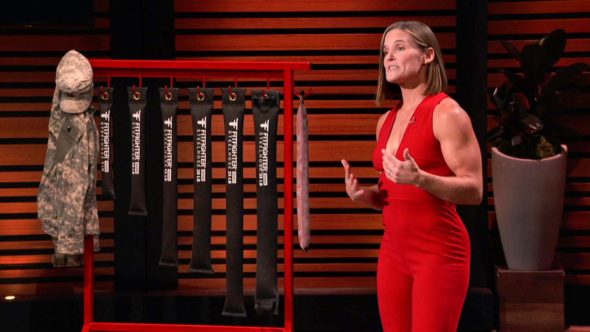 Sarah Apgar hopes to snag a Shark for FitFighter, her fire hose training weights that mimic firefighter training, in Shark Tank episode 1204. Apgar spent two years in the Army as a marketing and business development analyst for the Army Corps of Engineers. When she got out, she joined the volunteer fire department in Huntington, NY to get exposure to the camaraderie she  missed in the army.
Fit Fighter is a series of free weights made from repurposed fire fighter hose and steel pellets. The weights, coupled with the training app, comprise a rigorous training regimen modeled after the training Sarah did as a firefighter. The  FDNY Fire Training Academy and San Diego Fire Rescue Academy use her program and weights. Once she gained acceptance from the firefighting community, she decided to make her products and training available to the general public.
Prices for the actual FitFighter Steel Hoses vary from $65 to $205 depending on size and weight and number of weights in a set. Sarah is also certifying instructors and has a deal to distribute through Sorinex, a leading gym equipment manufacturer. A portion of every sale goes to the Stephen Siller Tunnel to Tower Foundation, which helps wounded veterans and first responders and their families. Sarah wants to grow both her training business and sell a lot of weights. Will a Shark see this as a good fit?
Company Information
Video

Posts about FitFighter on Shark Tank Blog
Fit Fighter – Fire Fighter Inspired Weights
FitFighter Shark Tank Recap
Sarah enters seeking $250,000 for 15% of her business. She explains how she wants to sell to military, firehouses and other first responders. She's also developed an app that gives exercise routines. There's a free version and a paid version with more exercises.
The major objection the Sharks have is her lack of focus. One by one they drop out. Daniel Lubetzsky makes an offer: $250,000 for 25%. Sarah accepts.
FitFighter Shark Tank Update
The Shark Tank Blog constantly provides updates and follow-ups about entrepreneurs who have appeared on the Shark Tank TV show. The deal with Daniel did close and the company is listed on his website. The business gets an update segment in episode 1215 where we'll see how the business has pivoted during the continuing pandemic.
In the update, Sarah says she did $250,000 in sales in the week following the  initial air date. In three months, she did $900,000 in sales. As a response to the pandemic, she put together an online training platform. Daniel also helped get the product into Dick's Sporting Goods resulting in $250,000 in purchase orders. Sarah also donated $10,000 to Tunnels to Towers and Daniel matched it. As of July, 2021, annual revenue is $900,000 – $1 million.