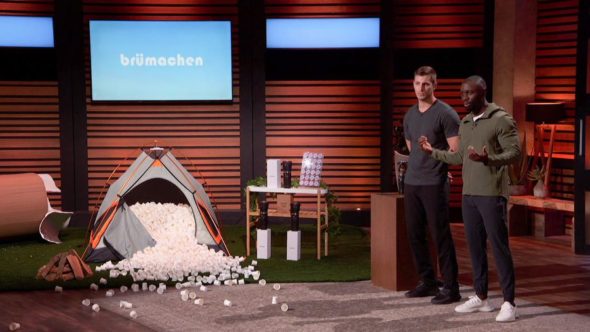 Ross Smith and Kweku Larbi pitch the Sharks on Brumachen, their portable coffee brewer that brews a cup at a time, in Shark Tank episode 1213. Larbi, originally from Ghana, spent a good chunk of his professional life working as a civil engineer. Smith is a big Tik Tok star who has over 13 million fans. Together, they created their  single-serve, portable coffee maker.
The Brumachen uses a K-cup or refillable pod and brews a hot, 190 degree cup of coffee in five minutes. It uses a car's 12 volt outlet and it plugs into home outlets as well. Since it's so portable, you can bring your favorite coffee with you just about anywhere. This isn't just convenient, it can save a lot of money versus buying a cup of coffee.
The guys raised $41,553 in a Kickstarter Campaign in January 2020. There were a few problems with international fulfillment, but they appear to have overcome those. A new unit will set you back $121. Since they had issues dealing with overseas manufacturers, they likely want a Shark's help with that.
Company Information
Video

Posts about Brumachen on Shark Tank Blog
The BruMachen – Portable Single Cup Coffee Brewer
Brumachen Shark Tank Recap
Ross and Kweku enter seeking $1 million for 10% of their business. The valuation puts the Sharks off. The Sharks also thing they need to modify the finished product in order for it to be a true consumer product. Citing those reasons, one by one the Sharks go out. No Deal.
Brumachen Shark Tank Update
The Shark Tank Blog constantly provides updates and follow-ups about entrepreneurs who have appeared on the Shark Tank TV show. Since the show originally aired, there have been no updates to the company's social media pages or their Kickstarter. A deep dive into the Kickstarter comments indicates they'll never deliver a finished product. One backer, KicksIndigoReviews, a Kickstarter "superbacker" that reviews Kicksarter and IndieGoGo campaigns had this comment:
Like I said at the start of this campaign people should have backed out I just stayed for a dollar to see if I was right, and looks like I was. Too bad cool idea but creators in way way over their heads.
There are numerous complaints in the comments from people who DID receive a unit and they didn't work as promised. Many backers complain the company won't respond to them and several have reported them to Kickstarter. It looks like this product will never get made.
As of July, 2021, their website is still taking orders for the machine. International orders are not being fulfilled however, leading to a lot of complaints from people who aren't in the USA. By July, 2023, few orders have been fulfilled and those that were received many complaints. The concensus is the machine is a "piece of crap." This business never was and isn't fuctioning anymore.