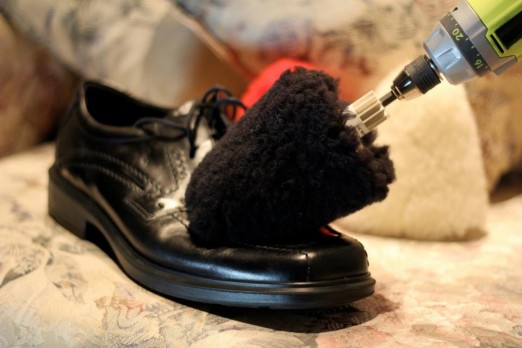 Entrepreneur Michael Quinn brings a polished pitch to Shark Tank episode 521 on March 7 with his Buffer Bit, a shoe shine buffer that spins with a power drill. Quinn founded the company back in 2012 and officially launched the product in November 2012 when it was featured on DIY Network's I Want That.
The Buffer Bit is a shoe buffer that attaches to an ordinary hand drill. It gives your shoes that fresh buffed shine without a lot of elbow grease and without having to purchase one of those mechanical shiners. Most people have a drill lying around the house, so this product is for anyone with shoes. Quinn also developed a foam buffer for automotive use.
The product sells on Amazon and Quinn's sold a bunch of them since 2012. He's probably looking for some Shark help to get into retail and build more inventory.
Buffer Bit Shark Tank Recap
Michael comes to the Sharks looking for $75,000 in return for 25% of the company. He claims that The Buffer Bit is a "game changing" product in shoe care. When the bit is attached to a cordless drill, it quickly polishes shoes. He has created an extra attachment designed for detailing cars.
Mr. Wonderful is skeptical. He points out that electric shoe polishers already exist. Michael claims that a quality electric shoe polisher costs between $50-100. He sells his for $19.95. It costs him $9 to make each Bit.
Mark Cuban tries the bit out on his shoes, then "polishes" Daymond John's head, gaining laughs from the other Sharks.
Michael has a provisional patent, and has had some interest from major retailers. In 9 months of business, he's sold $30,000 worth of product.
Who's In?
Mark Cuban says "I think you've got a cool product," but believes it's too early. The product hasn't made it into retail stores yet. He's out.
Lori Greiner says she "doesn't know enough" about men and how many of them polish their shoes. She's out.
Daymond John just doesn't see the application. He's out.
Kevin O'Leary tells an amusing story about a secret society of wine drinkers who would use the Buffer Bit to polish their silver cups. He says he's "a buyer, but not an investor." He's out.
Robert Herjavec isn't certain Michael's developed the market enough. He wouldn't buy the product, although he values a put together look, including clean and polished shoes. He's out.
The Buffer Bit Shark Tank Update
Although Buffer Bit didn't make a hit as a shoe-polishing tool, Michael didn't give up on his dream. He shifted gears and reimagined his product as a car detailing tool. In 2014, he attended the SEMA (Specialty Equipment Market Association) Show, a gathering of automobile after-market product producers and salespeople.
At SEMA, Michael caught the eye of Gene Winfield, a custom car builder well known in the industry. With Winfield's endorsement, the Buffer Bit took off, and is now an award winning product with mass appeal to car enthusiasts around the world.
Since making that connection, the products are more focused on cleaning and auto detailing, but he still sells the cotton buffer for shoes. As of April, 2022, the business has $6 million in lifetime sales and annual revenue of $800,000 – $1 million.
Posts About Buffer Bit on Shark Tank Blog
Company Information
Buffer Bit Auto Buffer Video