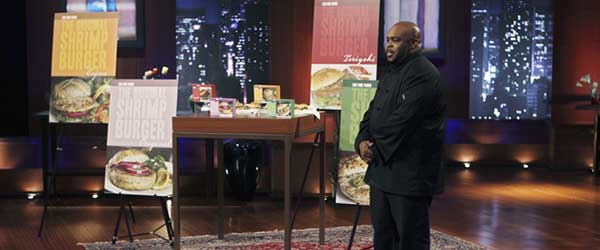 Shawn "Chef Big Shake" Davis comes to episode 201 of the Shark Tank with a revolutionary approach to the backyard BBQ in the form of his company, CBS Foods. When his daughter was 10, she came home from school with a pamphlet on vegetarianism. Wanting to support her new culinary interest, Davis began devising recipes that relied upon seafood rather than traditional meat sources.
Shawn Davis was infused with a love of cooking by his early experiences. Living in a rough neighborhood, his mother thought it best if a young Davis went to live with family friends, an Italian family that ran a restaurant. Davis learned the business from the bottom up, and absorbed an aptitude for balancing spices and flavorings to create intriguing dishes. With his business reaching a place of early success, he's ready to launch his brand on the national level. Will the Sharks take the bait, or will Chef Big Shake find himself back at the drawing board?
CBS Foods Shark Tank Recap
Davis comes into the Shark Tank and confidently requests $200,000 in exchange for 25% of the business. He introduces the Shrimp Burger in its 4 different flavors, and hands out samples, tantalizing the Sharks with his tasty treats.
Shawn cites the size of the market for hamburgers and turkey-burgers, announcing that CBS Foods is "perfectly positioned" to grab their share of the market. He asks the Sharks, "Who's ready to help me help you to add some zeros to your bottom line?"
Kevin O'Learly, always the practical one, wants to know how much a case of the Shrimp Burgers cost to make, and what it sells for. He feels the cost of production, at $.87, versus the retail price, $1.63, represents a "light" margin.
Davis replies that "you're buying a brand. You're buying Chef Big Shake." With all the products taken together, his margins are a healthy 63%. Davis speaks the Sharks' language, but will he be able to reel in a deal?
Mark Cuban likes the product but he doesn't "know the food business", so he can't add value. He's out. Barbara Corcoran simply doesn't like shrimp. She's out. Kevin O'Leary tells Davis he's "already doing business" with him- he owns the debt of one of the largest shrimp companies. He believes that Davis' margins aren't strong enough. He thinks the concept is too risky, and he's out.
Robert Herjavec believes Davis' valuation is too high. He's out. Four Sharks have left the table. Only Daymond John remains. Like Herjavec, the valuation is an obstacle. Davis ups the ante, offering John 40%.
John says "I'd be buying more into you because you're a great guy, than into the business." Reluctantly, he's out. Davis leaves the stage without a Shark deal.
CBS Foods Shark Tank Update
After leaving the Sharks, Davis says "Everything happens for a reason."
He couldn't have known, after the show, how right he was. Although the Sharks declined to invest in his company, the television exposure brought the company to the attention of other investors. Today, CBS Foods boasts over $5 million in sales a year. Davis also got an update segment in episode 301 in season three – rare for a business that didn't get a deal! Mark Cuban has remarked in interviews that he regrets not investing in Davis' company, calling it a missed opportunity. Even the Sharks don't always know which companies will hit the big time, and which will fizzle. Luckily for Davis, other investors believed in his dream, and his company became a rousing success.
By 2016, it appears CBS has fallen on hard times. Their website is "under construction," and has been for several months. In 2018, Chef Big Shake re-emerged as Big Shake's Hot Chicken, a fast casual restaurant in Nashville with one franchisee in Huntsville, AL. A third location is opening in Tampa in the fall of 2021. He also sells his breading mix and spices to food service providers and consumers. As of July, 2021, his new venture earns $3 million annually. In May, 2022, there are now 4 restaurants in Tennessee and Alabama with two more "coming soon."
Posts About CBS Foods on Shark Tank Blog
The Shrimp Burger Revolution Tour with Chef Big Shake
CBS Foods: Chef Big Shake Interview
CBS Chef Big Shake on ABC Shark Tank
CBS Foods Company Information