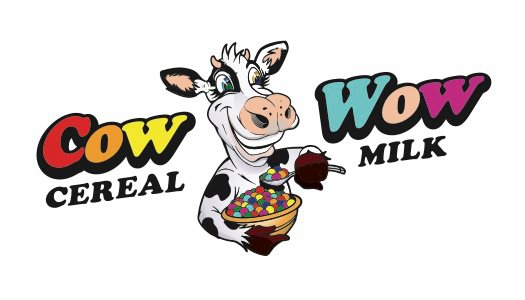 Chris Pouy and Tiffany Panhilason hope the Sharks drink up and invest in their cereal milk called Cow Wow. The single serving, organic milk boxes contain milk flavored like the milk at the bottom of a cereal bowl. With flavors like Fruity Trudy and Peanut Butter Bessy, Cow Wow is sure to please even the most finicky kids when it's time to drink their milk.
Chris and Tiffany weren't content with the standard flavored milk on the market; they thought kids deserved more choices in flavored milks. That's what led them to flavor their totally organic product from "the best part of the bowl." Each Cow Wow is chock full of vitamins, low-fat, and it's USDA certified organic. Now kids have another healthy alternative when on the go. It's widely available in the mid-west, south-west and north-west parts of the country in Kroger, Ralph's, Fred Meyer, Quality Food Center, Smith's, Dillon Stores, Baker's, King Soopers, City Market and Fry's.
Cow Wow is likely looking for an investment to fund production and a strategic partner to help with more distribution.
Cow Wow Shark Tank Recap
Chris and Tiffany come into the tank looking for an investment of $250,000 in exchange for 10% of the company. Tiffany hands out samples of the flavored milk product, while Chris explains that the serving has 20 grams of sugar, and that a serving of plain milk has 14 grams. Most of the Sharks agree that "cereal milk" is something that "everyone loves." Daymond John is lactose intolerant, so he's not a fan.
They're currently in Bristol Farms grocery stores and in certain Albertsons. They have a deal on the table for an additional $100,000.
When the pair explains that the product doesn't need to be refrigerated, but is in the refrigerated section for flavor enhancement, Mark Cuban points out a problem. Cow Wow is competing with major brands that already have flavored milk products and large budgets. Cuban believes the challenges are too big, and he goes out.
Daymond John believes the calorie count per serving is too high and is concerned about childhood obesity. He's out.
Chris explains that they have no artificial additives in Cow Wow, and that they have the "cleanest label in flavored milk," with the lowest sugar content on the market.
Lori Greiner isn't a fan of milk. She's out.
Steve Tisch likes the idea, and the branding, but he wasn't impressed with the flavor. He's out.
Kevin O'Leary doesn't believe that Cow Wow has a "hope in hell" of gaining share in the already-crowded flavored milk market. He's out, and Cow Wow leaves the Tank without a Shark deal.
Cow Wow Shark Tank Update
After leaving the Shark Tank stage, Chris suggested that the Sharks were "just too old" and didn't get the appeal of Cow Wow. The Shark Tank effect did boost sales after the show, and the pair were able to land a deal with Kroger. The product went on to get shelf space in more stores in the midwest, northwest, and southeast. It is no longer available via Amazon, where it had a very lukewarm response. One flavor, Tutti Fruiti, had only two reviews, one five star and one single star. Cow Wow may hold appeal for moms looking for a lower-sugar alternative to their kids' favorite flavored milks, but the market for sweetened "healthy" drinks is limited. The Sharks may be "too old" for Cow Wow, but this is one deal that they may have been wise to pass udderly by.
At its peak, the milk was in 900 stores nationally. Chris shut the business down in 2014, not long after the episode aired.
Posts About Cow Wow on Shark Tank Blog
Cow Wow Information