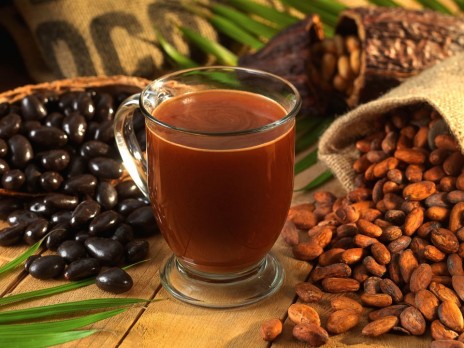 Jon Fortheringham and Dr. Eric Durtschi introduce the world and the Shark Tank to Crio Bru, their roasted cocoa drink you brew like coffee, in episode 522. The pair is the latest Kickstarter to appear on Shark Tank this season, but unlike many of the others, Crio Bru did NOT reach its funding goal back in December 2012. That didn't stop them, now Crio Bru is in hundreds of markets all over the country.
Durtschi's father worked for boxed chocolate giant Russel Stover. That's where his love for chocolate and concocting cocoa based recipes began. After becoming a Doctor of Chiropractic, he wondered "what if cocoa beans could be brewed just like coffee beans?" That was the genesis of the business. Crio Bru is named after the Criollo bean, the "best" cocoa bean out there. Fresh brewed cocoa is a super food: it's low in calories, contains no sugar, no fat, no dairy, no sodium, no cholesterol and very little caffeine. It's also high in antioxidants, theobromine and lots of other vitamins and minerals.
Fortheringham and Durtschi are likely looking for the Sharks to help with national retail distribution.
Crio Bru Shark Tank Recap
Jon and Eric will pitch the panel of five Sharks on the business and its prospects for growth. They'll need to convince Mark Cuban, Lori Grenier, Kevin O'Leary, Daymond John, and Robert Herjavec that the company is worthy of a Shark investment. A good business plan, good financials, and sales data will impress the Sharks, but they'll need to show them THEY are capable of running the company to "Shark standards." A full pitch re-cap on Crio Bru will be available on Shark Tank Blog once this episode airs.
Crio Bru Shark Tank Update
The Shark Tank Blog constantly provides updates and follow-ups about entrepreneurs who have appeared on the Shark Tank TV show. Once an episode has aired, we monitor the progress of the businesses featured, whether they receive funding or not and report on their progress. The Shark Tank Blog will follow-up on Crio Bru, Jon Fortheringham and Dr. Eric Durtschi as more details become available.
Posts About Crio Bru on Shark Tank Blog
Crio Bru Information
Video