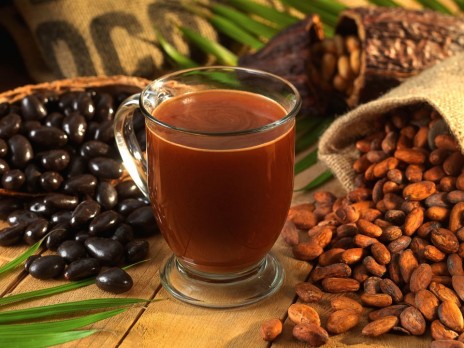 Jon Fortheringham and Dr. Eric Durtschi introduce the world and the Shark Tank to Crio Bru, their roasted cocoa drink you brew like coffee, in episode 522. The pair is the latest Kickstarter to appear on Shark Tank this season, but unlike many of the others, Crio Bru did NOT reach its funding goal back in December 2012. That didn't stop them, now Crio Bru is in hundreds of markets all over the country.
Durtschi's father worked for boxed chocolate giant Russel Stover. That's where his love for chocolate and concocting cocoa based recipes began. After becoming a Doctor of Chiropractic, he wondered "what if cocoa beans could be brewed just like coffee beans?" That was the genesis of the business. Crio Bru is named after the Criollo bean, the "best" cocoa bean out there. Fresh brewed cocoa is a super food: it's low in calories, contains no sugar, no fat, no dairy, no sodium, no cholesterol and very little caffeine. It's also high in antioxidants, theobromine and lots of other vitamins and minerals.
Fortheringham and Durtschi are likely looking for the Sharks to help with national retail distribution.
Crio Bru Shark Tank Recap
Jon and Eric enter the Shark Tank seeking $1 million for 10% of their business. The Sharks balk at the valuation. The guys give their pitch and tell their story, then they hand out samples. The worst thing that can happen to a food or beverage company occurred: three Sharks didn't like the product. Robert gasped, Mark said "OH!" and made a face, and Daymond made some noise too. These three Sharks went out quickly. Barbara and Kevin soon followed in a very short segment.
Crio Bru Shark Tank Update
The Shark Tank Blog constantly provides updates and follow-ups about entrepreneurs who have appeared on the Shark Tank TV show. The company did a month's worth of sales on the night of the original air date. Despite the Sharks not liking the Bru, many people do. It's a big seller on Amazon. It's been selling online since appearing on the show. Fortheringham left the company shortly after they taped their segment in 2013. As of December, 2022, Durtschi is still CEO and their annual revenue is $3 million.
Posts About Crio Bru on Shark Tank Blog
Crio Bru Information
Video